HONG KONG: Hong Kong stocks suffered their biggest drop in more than six weeks, as investor sentiments were hit by Beijing's unexpected decision to increase the mainland banks' reserve ratio, signaling that the government wants to restrain lending and to cool growth.
The Hang Seng Index slid 2.6 percent to close at 21,748.60, its sharpest drop since November 27. The Hang Seng China Enterprises Index, which tracks so-called H-shares of mainland companies listed in Hong Kong, dipped 3.7 percent to 12,482.18.
Market turnover rose to HK$97.62 billion ($12.59 billion), the highest since November 27, from Tuesday's HK$81.22 billion.
"Every time we have one of these announcements, we have one or two days of sell-off," Erwin Sanft, head of mainland and Hong Kong equities research at BNP Paribas SA, told Bloomberg, adding, "This whole action to start to raise rates and tighten is about nine months too late."
Reserve requirements for banks will increase by 50 basis points starting January 18, China's central bank said yesterday evening. The move wasn't expected until at least April, according to the median of 11 forecasts in a Bloomberg News survey.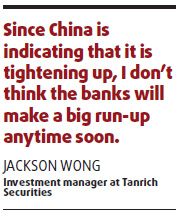 The move will help remove about 300 billion yuan ($43.9 billion) of liquidity, according to estimates by Xing Ziqiang, an economist in Beijing at China International Capital Corp.
"This is the first reaction from China on the bubble forming. The impact is pretty big this time, but China has been working hard to maintain its economic growth. They won't want to derail it," said Jackson Wong, investment manager at Tanrich Securities.
Mainland banks fell, with ICBC, the world's largest lender by market capitalization, extending early losses. The stock fell 3.58 percent, or HK$0.22, to hit its three-month low of HK$5.93.
China Construction Bank also shed 3.89 percent or HK$0.25, to HK$6.17, while Bank of China was down 3.62 percent, or HK$0.15, to close at a three-week low of HK$3.99.
Property stocks, a sector that has become a target of Beijing's efforts to stamp out runaway price rises, also dropped, as an official vowed renewed attempts to curb speculation.
China Overseas Land fell 4.73 percent to HK$15.7, while China Resources Land dropped 6.59 percent to HK$15.6.
But analysts said extended steep sell-offs of banks and property issues were unlikely, adding that the stocks may consolidate at current levels. Some also said the PBOC move could help to stabilize the banking system.
"I do think they are reasonably priced right now (at 12-14 times price to earnings ratio). But since China is indicating that it is tightening up, I don't think the banks will make a big run-up anytime soon," Tanrich's Wong said.
Other sectors pegged tightly to the mainland's economic growth and building boom, such as resources, also took a hit.
Aluminum Corporation of China (Chalco), the country's largest aluminum maker, was down 7.03 percent to end at HK$9.65. China Shenhua Energy, the nation's largest coal producer, also slipped 3.54 percent to HK$39.5.
China Daily/ Agencies
(HK Edition 01/14/2010 page4)