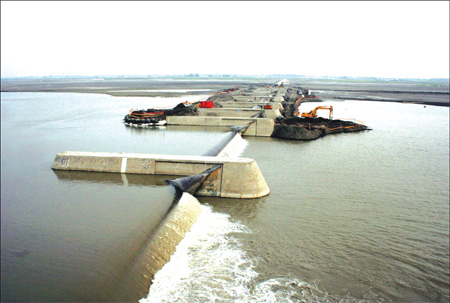 Construction of temporary dams at a weir on the Gaoping River in southern Taiwan, the main source of tap water for the Kaohsiung city area, is in full swing yesterday to replace three inflatable rubber dams torn by drift wood washed down by heavy flooding triggered by Typhoon Morakot last August. The breaches stand to worsen the already worrisome water supply situation in the area. CNA
TAIPEI: In addition to fostering better management of reservoirs, a Water Resource Agency (WRA) official said yesterday that it will try to increase water resources for the southern Taiwan region in the short term to solve water shortages caused by drought.
WRA Deputy Director Wu Yue-hsi said that in the short term, the agency will increase the supply of backup ground water per day from 205,000 to 400,000 tons and will also plan to promote sea water desalination and recycling of waste water.
The WRA will also encourage people in southern Taiwan to use more water-saving devices and to cultivate water-saving habits, Wu said.
Although the government has decided to take action to dredge reservoirs in southern Taiwan, the progress has been slow, said Wu, adding that it will take a long time to bring the water supplies of reservoirs back to normal levels.
WRA Director Yang Wei-pu said last month that water levels in reservoirs in southern Taiwan have fallen alarmingly as a result of low rainfall and silt buildup.
Water consumption in Taiwan averages 274 liters per head per day, equivalent to emptying Sun Moon Lake in 20 days, according to Yang, adding that water shortages could occur very soon.
According to the agency, the government hopes to decrease personal daily water consumption to 250 liters.
In order to fight the drought, the Kaohsiung city government unveiled last week a plan to drill new wells along the Gaoping River.
According to Kaohsiung Deputy Mayor Lin Jen-yi, this will double the water supply from the wells in the area to 400,000 cubic meters per day.
Typhoon Morakot deposited huge quantities of sand and mud in southern Taiwan's reservoirs in August, while scant rainfall also affected the water supply situation.
The Executive Yuan announced last month that it has earmarked NT$34 billion ($1.05 billion) to dredge Taiwan's two largest reservoirs - Tsengwen and Nanhua in southern Taiwan - over the next six to seven years.
China Daily/CNA
(HK Edition 01/05/2010 page2)