HONG KONG: Fantasia Holdings, a Shenzhen-based property developer, has priced its new shares towards the top of its indicated range, after it received overwhelming subscription from retail and institutional investors.
Fantasia managed to raise HK$3.18 billion in its Hong Kong initial public offering, as it sold a combined 1.46 billion shares, about 30 percent of its enlarged stake at HK$2.18 apiece, a market source told agencies Reuters and Bloomberg yesterday.
"Reasonable pricing of new shares and significant subscription from reputable investors have given a boost to the subscription response of Fantasia," said Patrick Yiu, associate director of CASH Asset Management.
The property developer earlier offered the shares at HK$1.75 to HK$2.20 each, of which around 83 percent shares were newly issued, according to the company's prospectus.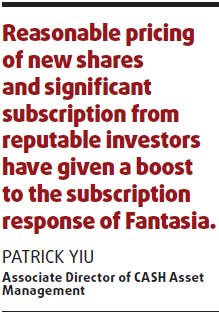 The Hong Kong retail portion of the sale was about 155 times oversubscribed, while international institutions also ordered more than 40 times the number of shares offered to them.
The oversubscription is likely to trigger the claw-back option, raising the retail portion to 50 percent from 10 percent of the total offering.
Chairman of New World Development Cheng Yu-tung and chairman of Henderson Lang Development Lee Shau-kee have subscribed $30 million and $10 million new shares in Fantasia, respectively.
The billionaire investors said they bought the shares because of the company's prosperous outlook, not as homage to its founder and executive director Zeng Jie, the niece of the country's former vice-president Zeng Qinghong.
The offer price of Fantasia represents a multiple of 6.5 times forecast earnings next year, while its rival Longfor Properties priced at 14 times forecast 2010 earnings. Fantasia has set its trading debut for November 25.
Meanwhile, Beijing-based property developer Longfor will start trading on the Hong Kong bourse today.
Longfor has received around 57.5 times oversubscription from its retail portion of sales in Hong Kong, as it raised around HK$6.70 billion in its Hong Kong initial public offering, pricing at HK$7.07 per share.
US investor George Soros and sovereign fund China Investment Corporation are among the investors for Longfor.
Shares of Longfor slightly rose 1.13 percent to close at HK$7.15 in the grey market yesterday.
Kingston Lin, OSK Securities business development manager, said Longfor is much less recognized by prominent local investors, which is why it is less popular than Fantasia.
"Retail investors, instead of institutional investors, are the majority subscribers for Longfor. Therefore, the company's trading debut is expected to remain quite stagnant," Lin added.
(HK Edition 11/19/2009 page4)