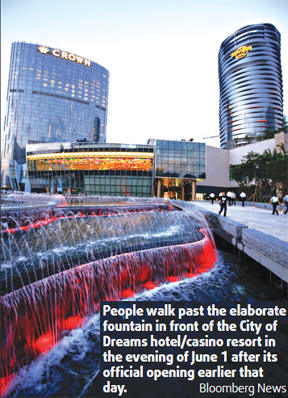 SHANGHAI: Nasdaq-listed Melco Crown Entertainment (MCE), the developer of comprehensive leisure and entertainment resort, the City of Dreams, in Macao, is hoping to lure more tourists from the affluent Yangtze River Delta area to help boost the tourism and convention and exhibition (C&E) sectors of the SAR.
"We aim to further continue our investment in line with the SAR government's call to help escalate Macao into a quality leisure and tourism destination, offering multiple entertainment choices," said Lawrence Ho, CEO of MCE, yesterday at an event to promote the 20-billion yuan City of Dreams that Melco has developed.
The resort has so far received 3.5 million visitors since its launch in June, with an average daily reception of 37,000 people. Among all the visitors to City of Dreams so far, about half have come from the mainland.
Shanghai has always been a hot departure point for tourists traveling to Macao. Statistics from Air Macao show that by the end of August, over 80 percent of daily passengers on board Air Macao flights between Shanghai and the Macao SAR were tourists from Shanghai and the neighboring areas.
As a whole, The mainland has become the most important tourist origin for the SAR. Statistics from the Macao SAR government show that among the 23 million visitors to Macao last year, 12 million were from the mainland.
Lawrence Ho, son of business typhoon Stanley Ho, said yesterday that Melco may consider launching the third-phase development of City of Dreams next year, featuring an apartment hotel consisting of approximately 800 units, depending on the financing of the projects.
He said he is quite optimistic about the future performance of City of Dreams, as the economic crisis has hit bottom, and both the mainland and Macao's economies are currently in a recovery phase.
"I think the timing is quite good, as it was in July and August. Macao's tourism market has started rebounding, showing a year-on-year increase," he said.
Ho said that though neighboring markets such as Singapore, which is also vying to become a world C&E center, might put some pressure on Macao's tourism sector, the SAR has its own advantages.
"Macao has its own geographic advantage as about 2 billion people resides in an area within a three hours flight to the SAR, and because it has over 40 years' experience in the entertainment and tourism sectors," he added.
Lo also announced yesterday that the 791-room Grand Hyatt Macao, developed by Melco, will open to business on September 29 to further facilitate the lodging and C&E needs of Macao.
Open to business on June 1, the City of Dreams features a 420,000-square-foot casino, over 20 restaurants and bars, an array of the world's top retail brands and landmark hotels such as the 300-room Crown Towers and the Hard Rock Hotel.
(HK Edition 09/08/2009 page4)