HONG KONG: BYD Co Ltd, the country's leading electric car manufacturer, has been in the limelight for some time as investors' enthusiasm over the car maker's electric car thrust persists. However, how BYD will fare in its electric car campaign will hinge largely on the extent of State support.
BYD has earned its spurs as a game changer in the battery, handset and auto markets during the past few years, as shown by its strong operating results. Investors' enthusiasm over the car maker's electric car push also extends to its competitive edge in electric car technology.
Another selling point of the electric car is its much lower average fuel cost compared with that of conventional cars.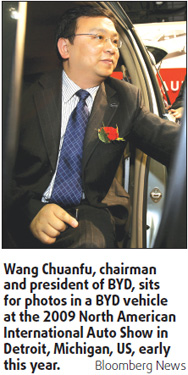 The F3DM operates with only about 35 percent of the fuel cost of conventional models for the same mileage, according to estimates made by Morgan Stanley analysts Jasmine Lu and Tim Hsiao in a research note.
The prospect for BYD's electric cars seems promising on the face of it. However, a number of hurdles need to be cleared before electric cars can cruise into ordinary parking spaces on the mainland.
First of all, the huge pricing premium demanded by BYD for its F3DM is likely to be a major deterrent for car buyers.
The F3DM cars sell at around 150,000 yuan, which is more than double the price of similar-sized conventional models. For example, BYD's similar-sized gasoline-powered F3 cars sell at only about 59,800 yuan.
In step with its policy to develop the new-energy sector to promote low-carbon economic growth in the long term, the central government has decided to support the development of new-energy vehicles by providing incentives including price subsidies.
The Shenzhen government is reportedly heeding the call, initiating a plan to subsidize individual buyers from the second half of this year with an approximate subsidy of 40,000-50,000 yuan per car.
However, the F3DM still costs some 70 percent more than gasoline-powered models, even after securing a government subsidy.
On top of that, F3DM's maintenance costs are also a concern.
"We believe the maintenance costs are not as low as many think," the Morgan Stanley analysts said.
The F3DM will cost about 35 percent more than conventional cars in terms of maintenance costs (including the energy costs for electricity and gasoline) for the first 200,000-kilometers, according to their estimates.
That means the savings from lower costs of electricity will be totally offset by other maintenance costs - mainly the cost for changing the generator during the car's lifetime.
Apparently, more aggressive State subsidies are needed in order to effectively lower the prices and maintenance costs for electric cars to levels comparable to those of conventional models.
Another major impediment expected to hinder brisk sales for electric cars is the lack of charging stations on the mainland.
Although BYD is proud of its technological innovation in its lithium-iron-phosphate batteries used in the F3DM cars, which allow the user to charge them at home, mainland car owners, most of whom do not have their own garage and usually park their cars along roadsides, will find it difficult and very inconvenient to carry their batteries home for recharging.
Again, more State support will be needed to facilitate the installation of sufficient numbers of charging stations or sockets in public parking lots.
The battery charging problem can be readily solved in Western markets, where car owners usually have their own garages and charging stations are more popular. This could be one of the reasons behind BYD's move to tap the US market much earlier than it previously planned.
BYD now plans to sell its e6 pure electric MPV in the US market next year, a year earlier than it previously planned, recent reports said.
However, some analysts are less bullish about its imminent inroads into the US market.
"We do not think BYD can commercially roll out its electric car into the US market, because of the rigorous safety requirements and longer warranty required..." Morgan Stanley analysts Jasmine Lu and Tim Hsiao said in a note.
"We believe this is more a marketing effort to raise brand awareness for BYD's car in the US; initially it will target government agencies, utilities and some celebrities in a specific region," they added.
In fact, the lack of a safety record for electric cars could also be a major concern for potential car buyers at home.
"We reaffirm our view that it will take time to see material benefits, as a lack of infrastructure and track record for safety will hamper consumer demand," BOC International analyst Frank He said in a research report on BYD.
BYD plans to start selling its F3DM cars to individual consumers in 13 major mainland cities starting this month or early next month, after selling only fewer than 100 units to institutional buyers since it launched the model at the beginning of this year.
How BYD's electric cars will fare in the mass market remains to be seen. But one thing investors can be pretty sure of is that State policies will play a key role in the electric car story.
The share price of BYD has been outperforming the broad market this year on hopes that the Shenzhen-based battery and car maker will be able to sustain high growth in the future.
What BYD needs now is for motorists to agree with Buffet that the company is packing the right horsepower.
(HK Edition 09/08/2009 page4)