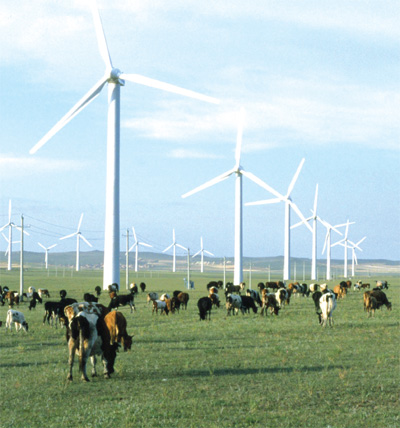 A wind farm in North China's Inner Mongolia autonomous region. The country is investing heavily in clean and renewable sources of energy such as wind and solar power to reduce its reliance on coal, which is relatively cheap but very polluting. Bloomberg News
HONG KONG: China Longyuan Electric Power Group, the country's largest investor in wind power farms plans an initial public offering set for the Hong Kong Stock Exchange in the fourth quarter as the city's IPO market maintains its momentum.
The company plans to raise around $700 million and is expected to submit an IPO application next month, sources with direct knowledge said yesterday.
Morgan Stanley is commissioned as the underwriter.
The proceeds will be mainly used to expand wind power farms, sources said earlier during an interview with China Daily.
The company has not specified a starting date.
It also said it chose Hong Kong over the Shanghai bourse for listings because the newly resumed IPO in A shares will take longer.
China Longyuan Electric Power, a wholly owned subsidy of the State-owed China Guodian Corp, is responsible for Guodian's renewable energy assets and is China's largest wind project developer, in terms of installed and planned capacity. It has boosted its total installed wind power capacity to more than 3,000 megawatts by the end of the first half of this year, according to statistics the company released on June 30th.
Beijing-based Longyuan, with the largest installed wind power capacity in Asia, is said to be one of the most profitable arms of Guodian.
The company is also diversifying its business: it signed an agreement for a 300 megawatt photovoltaic power project in May with the city government of Chifeng in Inner Mongolia, in a bid to expand its solar power sector.
Longyuan said in 2007 it planned to list in Hong Kong in 2008 but shelved the plan later when the financial crisis dried up the equity market.
A total of 18 IPOs were launched in Hong Kong in the first half, with an overall value of HK$17 billion, which represents a 66 percent drop in value from the same period last year.
Hong Kong's IPO market though bleak in the first half this year, began to rebound as investors confidence was restored.
(HK Edition 07/23/2009 page4)