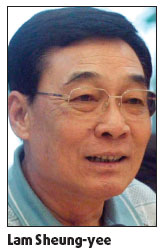 HONG KONG: Renowned football commentator Spencer Lam Sheung-yee died at the age of 74 at Ruttonjee Hospital yesterday.
Affectionately known as "Ah Suk", meaning uncle in Cantonese, Lam's career was not limited to football. He also starred in movies.
Lam was taken to Ruttonjee Hospital yesterday morning by his son, who found him collapsed in his home.
Lam started out as a player, joining the first division team Eastern.
He started doing commentary on football competitions during the 1960s. His authoritative style impressed audiences. He retired as a player in 1972.
There were fewer chances for Lam to do the commentary on European and other international football matches after 2000 because of intensifying competition among TV stations. The broadcast rights for matches often went to pay TV, so that Lam, on the free TVB channel, was effectively shut out.
He retired after doing the commentary for the 2006 World Cup for TVB. That also was the year he quit smoking at the urging of his doctors.
His smoking addiction was well known. He was surreptitiously recorded on video, smoking an entire pack of cigarettes during a live broadcast of the 1998 World Cup.
Lam also made it in the movies. He started accepting parts after 1990. His most impressive role was playing a pastor in the gangster movie Young and Dangerous.
Lam's wife, an editor for the court section of Sing Pao Daily News, died in 2005.
Chung Chi-kwong, Lam's partner in football commentary, said he was shocked by Lam's death.
Chung said Lam's commentary was direct and humorous, which set an example for young commentators.
Legislator and Sports Federation and Olympic Committee of Hong Kong President Timothy Fok said Lam now is part of the collective memory of Hong Kong.
(HK Edition 04/24/2009 page1)