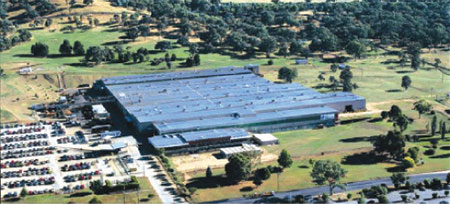 This undated photo shows a bird's-eye view of Drivetrain Systems International's factory in New South Wales, Australia. Courtesy of Geely Automobile Holdings Ltd
HONG KONG: Geely Automobile Holdings, the largest independent carmaker on the mainland, has acquired a vehicle parts manufacturer in Australia at "the best price", an acquisition that will allow the company to tap overseas technology and accelerate its access to the global market.
Geely paid about a tenth of the market price for parts maker Drivetrain Systems International (DSI), as the car builder gears up to compete on the international market, said Daniel Dai, vice president for international business at Geely.
"The economic downturn provides us with very good overseas acquisition opportunities. We get the best technology with the best price," Dai told China Daily in a phone interview. "We have signed the agreement and the acquisition has been done by our parent company." He declined to give more details of the deal.
Shares in Hong Kong-listed Geely Automobile were suspended for trading yesterday.
Under the agreement between Geely and DSI signed in New South Wales, Australia yesterday, Geely will invest in the research and development arm of DSI, which supplies auto transmissions, to help the company maintain its leading role in the global auto parts market.
DSI supplies top global players like Ford, Chrysler and Ssangyong Motor but the industry has been hit hard by the global economic slump and the company began bankruptcy proceedings last month, Geely Holding Group, the automaker's parent, said in a statement on its website.
DSI is the world's second-largest maker of automatic gearboxes. The company can produce 180,000 automatic gearboxes per year.
The acquisition will help Geely add larger and more sophisticated models to its product line-up currently dominated by cheap compacts.
DSI will continue supplying Ford after the takeover, Geely said, adding it also plans to import DSI's technology back to its homebase on the mainland.
There have been reports alleging Geely Holding Group was in talks with Ford about buying Volvo Car Corp. But the mainland carmaker has repeatedly dismissed the stories as "pure rumors."
Geely will consider "all sorts of strategic choices" and is "closely following" developments in the global auto industry, founder Li Shufu said during a press conference earlier this year. Shares in Geely Automobile in Hong Kong have fallen 25 percent in the past year.
(HK Edition 03/28/2009 page5)