HONG KONG: Seven measures to boost employment in the economic downturn have been announced by Chief Executive Donald Tsang.
The measures, announced after the Task Force on Economic Challenges meeting yesterday, will benefit construction workers; encourage university students to pursue postgraduate degrees and to work as interns, and will attempt to motivate commercial interests to offer placements.
Universities will offer more courses for professionals and middle managers to pursue further studies and the Employees Retraining Board will introduce higher training quotas.
As an additional measure, university students will be given opportunities to work on the mainland as interns.
Tsang said it is crucial that the government ensure the availability of employment opportunities in June, when the labour market becomes inundated with fresh university graduates, flooding onto the market when many people already are out of work.
Hong Kong lost more than 10,000 jobs in the fourth quarter, pushing the unemployment rate into an upward spiral from 3.2 percent in June to 4.1 percent in December.
"We have strengthened our effort to offer more jobs both inside and outside the government and through cooperating with the private sector," he said. "I also hope that corporate interests will try to avoid cutting staff. We have to be united to overcome the difficulties."
He added that the government will continue giving subsidies to companies hiring interns.
Hong Kong General Chamber of Commerce deputy chairman Anthony Wu said the Chamber has already asked its members to create 3,000 to 4,000 temporary jobs lasting one year, for university graduates.
A member of the Task Force on Economic Challenges Shih Wing-ching, who is also chairman of Centaline Property Agency, urged graduates to lower their salary expectations to improve their chances of finding jobs.
Another task force member, Chinese University vice-chancellor Lawrence Lau, expected the economic downturn will push more Hong Kong students to pursue post graduate studies. Some local university students did not agree.
Polytechnic University engineering student Chau Chi-yin, who will graduate in the summer, said pursuing further studies is not an option even if he is unable to find a job.
"Employers also realize the importance of working experience," he said. "I have already lowered my expectations on pay and working conditions, understanding they will be lower than last year."
Measures will also be taken to promote economic development, Tsang said.
A series of large scale local and international events will be organized, including sports, festivals and arts programs.
The Lands Department has compiled a list of 1,000 pieces of land that can be used by non-government organizations for short-term purposes.
The government will charge organizations nominal rent for use of the lands for purposes deemed by the government to be worthy.
Task force member Mathias Woo, executive director of the theatre group Zuni Icosahedron, said lands located near the city center can be used for markets or fairs. Those in remote area can be used to promote organic farming.
Tsang reiterated that the government will step up spending on infrastructure projects and recruit civil servants to provide 60,000 employment opportunities.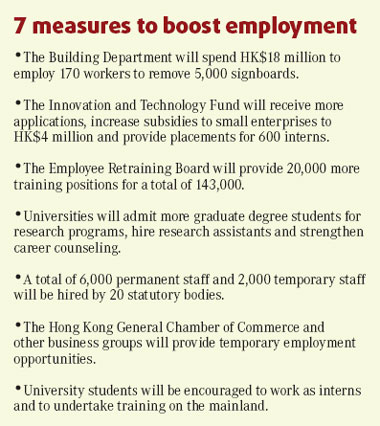 (HK Edition 01/23/2009 page1)