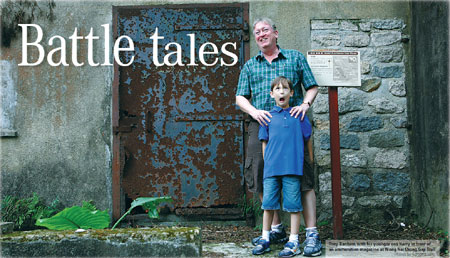 Tony Banham with his younger son Harry in front of an ammunition magazine at Wong Nai Chung Gap Trail. Photos by Edmond Tang
Books can create passion and alter beliefs. For Hong Kong historian Tony Banham, they have done both.
For two decades, Banham has been researching the history of Hong Kong during World War II. He started after reading the book The Lasting Honor - the Fall of Hong Kong 1941 by Oliver Lindsay.
His research has included countless site-visits, lengthy long-distance phone-calls and a tireless "excavation" for hidden materials - activities he has undertaken with religious zeal.
In those two decades he has published two books and a third is on its way. He has established himself firmly as a historian while deepening his own understanding of war and mankind.
"I had no idea about the Battle of Hong Kong when I first moved here in 1989," said Banham during a recent interview at his apartment on Robinson Road in Mid-Levels. Within months of his arrival, someone gave him a copy of Lindsay's book.
"I read it overnight and realized that most of the places described by the book were actually within easy traveling distance from where I live," he said. "The next day being a Sunday, I paid a visit to one of the battlefi elds - the Wong Nai Chung Gap."
"Five minutes after arriving I found a 6.5mm cartridge from a Japanese Arisaka rifle hanging out of an earth bank," he said. He collected rifle cartridges as a kid and knew immediately what it was.
His interest was piqued.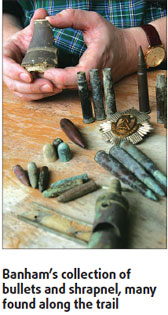 He has gone back to Gap, where both sides sustained the biggest single-day casualties of the battle, more than a hundred times. There's something about the place that haunts him.
After that Sunday morning, however, the immediate question was where to start.
It was not the first time Banham became deeply interested in the war history of an adopted city. In the 1980s, he lived near Arnhem in Holland - the site of one of the most famous airborne landings of World War II and the history of that city became the focus of his research for years. He later moved to Italy - near Anzio - where the allied forces staged a seaborne invasion and once again plunged himself into history.
The research methodology is similar: Putting together a basic chronology of the fighting and fleshing it out with any and all published and unpublished materials Banham can put his hands on.
A lot of time and effort goes into studying historical archives but it is the accumulation of first-hand information that lies at the center of his research. This means talking to people who have taken part in the battle. People who are now in their 80s and 90s.
"Those people are getting really old - some of them are half-deaf and their memories have become blurry," said Banham. "Besides, it is mentally diffi cult to ask them to remember things quite traumatic."
Realizing that many war veterans would only talk to people who have shared similar experiences, Banham turned himself into "one of them", by familiarizing himself with every detail. About four years ago, he visited the Wong Nai Chung Gap with two Canadian veterans. As they were walking along the mountain trail, one asked the other: "Did you know the person who ran down that hill and got shot in the face - what's his name?"
Banham had the answer at the tip of his tongue.
"Immediately, I was one of them," he said.
"It's no use asking, 'what did you do in the war, daddy?' when that war happened sixty years ago. But if you have done your homework, worked out where the interviewee was and when and what incidents he or she might have been involved in, then you can ask very precise questions," he said. "Suddenly the years are stripped away and shockingly precise recollections replace the muddle."
Over the past two decades, Banham has observed a noticeable change of attitudes among veterans.
"Fifteen years ago, when I tried to give an interview by phone, 'No' was the common response. Later, a lot of them realized that if they didn't want their suffering to be forgotten, they have to talk."
Despite constant progress, the project didn't really take off until 1999 when Banham discovered a website set up by Dick Hide, the son of a naval stoker who participated in the battle and escaped from Hong Kong after it was captured by the Japanese.
"At the time it was the only website that mentioned Hong Kong during World War II seriously," said Banham. "I wrote to Mr. Hide for contacts of the veterans and through him was able to reach many of them."
It was then that Banham, who works in IT, decided to build his own site. He now updates www.hongkongwardiary.com monthly and has done so for nine years.
"None of what I've accomplished would be possible without the website," said Banham. "It has enabled me to build a worldwide network of people with similar interests, including historians, researchers, veterans and their families and friends."
A quick read of the new additions in one particular month testifies to the website's effectiveness.
"August 3 Geoffre A. Arnold's daughter got in touch."
"August 13 Albert William Devonshire's granddaughter got in touch."
"August 16 Cuthbert Gowland's granddaughter got in touch."
"August 26 William Nesbit's son got in touch."
"August 26 Raymond Bank's great niece got in touch."
All those names belong to veterans who fought to defend the island between December 8 and 25, 1941. Without a doubt they will check the database Banham has been compiling for years on Hong Kong's defense forces. But, it is the story behind the names that holds the ultimate fascination.
One such person is Bevan Field, a pillbox commander who fought the Japanese at Wong Nai Chung Gap.
"The family gave me his diary - nearly 1,000 pages," said Banham. "It's almost like talking to him face-to-face. The diary tells you in person how the man took the gun, looked at the Japanese soldier, fi red at him, and looked back at the dead body lying on the ground."
"The diary has confirmed a large part of my guessing as to what happened in the pillboxes."
A few days before the interview with China Daily, Banham received a package from a man called Gordon Fairclough. The survivor of the Japanese invasion of Hong Kong sent him the third edition of his book Brick Hill and Beyond, based on his own experiences as a commanding officer and later as a prisoner of war.
He has also received tear-stained letters from veterans, most of whom found him through the website.
"The website receives 5,000 clicks per month, which is incredible. On an average day, I get 20 emails," said Banham.
But not all of them are good news.
"Now and then, I get a letter saying, 'I know you have spoken to my father, but I'm very sorry to let you know that he has recently passed away ... ' ," said Banham. "These days, I get such letters with depressing regularity."
He estimates there are about 400 veterans who participated in the Battle of Hong Kong still alive around the world but that number is likely to go down into the single digits within five years.
"I am very thankful that I started (the research project) when I did. It would have been too late if I started today," he said.
Banham still visits Wong Nai Chong Gap, although not as often as he used to. He helped turn the Gap into a memorial trail in 2006 and has regularly visited with his sons Mark, 11, and Harry, 6.
During a recent visit, the boys turned rapturous upon spotting a bullet charger half buried in the ground. At home, Banham keeps of a box of bullets, shrapnel and war medals, many of which were found at the Gap. Their attitude reminded Banham of his own fascination during his teenage years.
"As a kid, I was more interested in the hardware; as an adult, my interest lies in the human side of the story."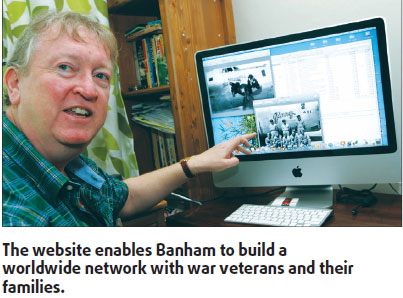 (HK Edition 12/16/2008 page4)