Learning about nature is actually very easy in Hong Kong, particularly if you want to learn more about trees. Students doing projects on trees can stay home and complete their research all on the Internet.
We constantly encourage students who have passion and knowledge about nature to send in their nature photos to Hong Kong Nature, a website jointly established by the Agriculture, Fisheries & Conservation Department and numerous local environmental bodies. People are often amazed by the wide variety of wild plants in Hong Kong. Identifying them one by one is fun and can arouse interest in outdoor learning.
A guidebook titled "Hong Kong Poisonous Plants" takes me to the most stunning places in Hong Kong and lets me rediscover my appreciation for nature.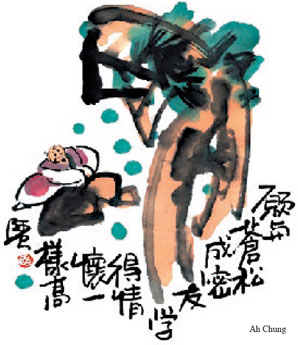 Ancestors of indigenous inhabitants in the New Territories immigrated from the mainland several hundred years ago. They lived close to each other for security reasons and therefore villages were formed. The location and architecture of these villages were all based on "Feng Shui", an ancient Chinese system that studies people's relationships to their environment in order to achieve maximum harmony with the spiritual forces believed to influence all places.
According to Feng Shui principles, the best location for settlement is one that is by the water with a mountain at the back and a flat land in the front. Therefore, most "Hakka villages" in the New Territories are surrounded by hills and mountains.
Trees around these "Hakka villages" are like supermarkets or clinics to the villagers, providing herbs and seasonal fruits for consumption and bamboo for construction projects.
These Feng Shui woodlands not only provide reassurance to the villagers, but are regarded as an important cultural and ecological resource. Feng Shui woodlands can screen off devastating gale, the scorching sun and the dry chilly north wind. They can also reduce landslide risk by retaining flood water and slipping mud. A dense broad-leaved forest is also good for stopping hill fire from spreading. Plants commonly found in Feng Shui woodlands include Lance-leaved Sterculia (Sterculia lanceolata), Longan (Dimocarpus longan), Incense Tree (Aquilaria sinensis), Ivy Tree (Schefflera heptaphylla), Hance's Syygium (Syzygium hancei) and Camphor Tree (Cinnamomum camphora) etc.
Villagers usually plant vegetation at the back of their villages as the Feng Shui woodlands mature. The plantation will gradually take a crescent shape embracing the village, just like a helmet over a head. The crescent shape of the forest acts as a barrier to provide additional protection or buffers. Villagers believe that the woodlands will bring them luck and govern the prosperity and development of the village.
I am deeply impressed by my ancestors' intelligence in that they could create such a sustainable living environment when they didn't even have air-conditioning.
Sadly, most of these Feng Shui woodlands are disappearing nowadays, as people leave their villages and live somewhere else.
The author is the marketing development director of
HK Discovery.
(HK Edition 10/24/2008 page4)