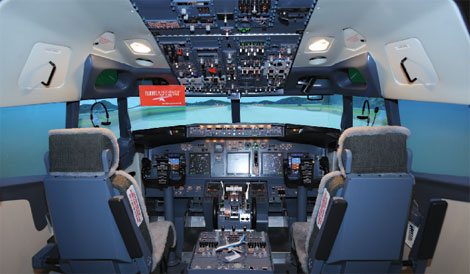 The inside of a simulator at MegaBox in Kowloon Bay. Photos curtesy of Flight Experience
Never an aviation fan, I felt unsure when I stepped into the flight simulator at Flight Experience for my first flying lesson. I knew nothing dangerous would happen. But a slight tremor of the flight deck - authentically rendered - triggered the nausea I always experience on a plane.
"The view is smaller than I expected," I commented on the 180 degree panorama projected on screens outside the window, in an effort to distract myself.
"This is what pilots see. This cockpit is exactly the same size as one on a Boeing 737," replied my trainer Pedro Luk, an Airline Transport Pilot License holder who had flied passenger-carrying airliners.
The view was actually the least of my concern in the following hour. As instructed, I tried to steer the aircraft according to gauges and dials, which Luk said are far more accurate than human eyes. But nudging the control column to the right angle seemed an impossible art. Even without the alarms warning about losing altitude, I could tell we had risen and sunk too steeply and too often. And I suspected we would have nosedived into the Victoria Harbour had Luk not been constantly correcting my maneuvers.
But my clumsiness is not unexpected. Flying lessons on Flight Experience simulators are, after all, part of the training for real pilots.
"It is for entertainment, but it's not a game," said the Managing Director of Flight Experience China Alessandro Gadotti.
Virtual flying
Flight Experience's newest store, located in MegaBox, a mall in Kowloon Bay, is its 12th in the world. Established in New Zealand in 2004, the company has since spawned outlets in New Zealand, Australia, Singapore and UK.
It is certified by the aviation authorities in New Zealand and Australia for cockpit pilot training, meaning that pilots can log "hours in the air" by flying the simulators on the ground rather than flying a real plane.
Certification application has been filed with Hong Kong's Civil Aviation Department as well, Gadotti said.
Flight simulators are a necessity in the aviation industry. As early as the 1900s, flight simulators were built to train novice pilots since it was obviously too expensive and dangerous to have novices fly real aircrafts.
For experienced pilots, simulators are where they hone their emergency-handling skills. Though an aircraft failure may never happen to a captain throughout his/her career, license renewal tests make sure they don't forget the emergency procedures.
"You can't practice those on a plane with 100 passengers on board," said Luk.
Flight Experience invested HK$25 million in making this flying experience available to the Hong Kong public. Of all Flight Experience outlets, this is the only one with two simulators.
In its outlet in Sydney, a city of 4 million people, the waiting list is about three months. With Hong Kong's 7 million residential population, not considering the tourist potential, two simulators should be necessary, he said.
A one-hour session on weekends cost HK$2,200, largely in line with outlets in other parts of the world. While it's more expensive compared to car-racing simulators in game parlors, Gadotti said Flight Experience will find a niche market because "if you want to fly a plane, this is the cheapest way to do it," said Gadotti.
A good reference point is the Hong Kong Aviation Club, where Hongkongers train for private pilot licenses. Every year, some 400 people paid the HK$120,000-200,000 tuition to learn to fly. And the number is growing.
Despite recession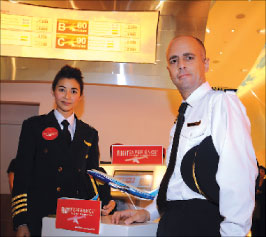 Hong Kong artist Yoyo Mung (left) and Alessandro Gadotti, managing director of Flight Experience China, at the opening ceremony of a Flight Experience outlet in Hong Kong
Flight Experience expects to see a return on investment in two years, said Gadotti, projecting the annual ticket sales between HK$11-15 million. This is not counting the extra income from memorabilia, photo shooting and video recording, which constitute about 20 percent of the revenue at other Flight Experience outlets.
The MegaBox store seems well on track to realize the earnings goals: Before its official opening on October 15, more than 60 tickets have been sold, "without advertising," Gadotti said. "It's better than expected."
Neither does the looming economic recession worry him. Flight Experience "will not touched by a recession because it offers a unique product," he said.
In good economy or bad economy, flying fans are likely to remain flying fans. People seeking to give special gifts to loved ones will find flying sessions interesting.
Corporate are a significant market, accounting for 30 percent of sales in the New Zealand outlets. But the inevitable budget cuts will not affect Flight Experience too much, Gadotti said.
There are three ways for corporates to make use of Flight Experience, he said.
Firstly, companies have booked Flight Experience tickets as gifts to customers. Their need to distinguish themselves and maintain customer relation is probably greater in difficult times.
Secondly, airlines have purchased sessions as a substitute for mileages on frequent flyer programs. "This is more cost effective than actually flying the customers," he explained.
Thirdly, Flight Experience are a great venue for corporate events. "If you want to organize a corporate event in a hotel in Hong Kong, they'll charge you a lot of money for just using the room. Flight Experience offers much more... Imagine you're a high-tech company wanting to launch a product. It would be so much more interesting to present it here. And you'll spend less," Gadotti said.
Gadotti disclosed that Flight Experience has already signed up a bank and a chartered airline as corporate customers in Hong Kong. It's also in talks with a major travel agency, to bring in tourists and provide ticket booking service.
Also in the pipeline is an outlet in Shanghai, scheduled for opening late this year or early next year. By 2010, the company planned to have Flight Experience to seven cities across the mainland.
"It's a perfect market for us," Gadotti said. "If you want to fly in Australia and New Zealand, you can go ahead and fly a real plane. But in China, you don't have so many options," he said.
As for non-enthusiasts like me, I walked away from Flight Experience with a sense of lightness. The next time I felt nausea on a plane, I'll remember how I had forgotten the nausea the minute I settled into that captain's seat.
(HK Edition 10/21/2008 page4)