Many people know To Kit as a gifted writer and a TV or radio host. As a matter of fact, he is also a disc jockey, a spokesperson for commercial products, a creative director, a university instructor and even a rapper. But to himself, he is just a writer.
To Kit's real name, as shown in his identity card, is Chip Tsao, which is not exactly a big secret. But few have heard of his alias "Yeung Fei-gip" - the pen name used by To Kit when he first started writing at the age of 16.
"In the 1970s, a group of artists wished to preserve the Chinese culture so Chinese literature was widely promoted," the 50-year-old writer recalled.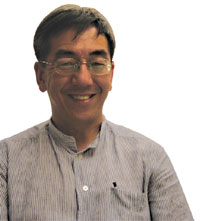 To Kit. Peggy Chan
Back in those days, people read and wrote more, so the standard of Chinese writing was higher then, he recalled.
When asked what made him choose the pen name, he burst into laughter. "I just wanted it to be memorable and trendy."
Tsao's passion for writing started to grow since junior secondary school, much to do with his family background.
His parents worked for a local newspaper and he used to read the articles on the supplement pages all the time. Tsao was fascinated by the homeland culture.
After graduating from secondary school, he furthered his education in the UK studying English Literature, a move he considersin retrospect crucial and wise in his life.
"The culture in Britain broadened my horizon. That would never have happened to me if I stayed in Hong Kong. Galleries, museums and theaters are everywhere in Britain and I just got immersed in the cultural world," Tsao said.
As he learnt more about the British culture, he began to ponder upon the culture of his motherland which gradually widened his vision.
Tsao worked for the British Broadcasting Corporation for eight years before being invited by Jin Yong (Louis Cha), co-founder of Ming Pao, to write about his life abroad for a column in the newspaper in 1992.
That was when Tsao began to use the name "To Kit", which sounds similar to his real name.
Finally his first book - Alongside Thames, a collection of his column articles - was published in 1995. To date, he has published over 45 books.
When Tsao was young, he never thought of becoming a writer. Neither did his parents encourage him to do so.
"They asked me not to be a writer as they thought it was a dangerous profession," said Tsao, who says the same thing to the young generation citing the social structure in Hong Kong.
"It's an "unrealistic" job. Whether you can make a living writing depends very much on luck," he said, while admitting that he had been blessed so far.
He found that Hong Kong places too much emphasis on investment and neglects the importance of culture. He commented that it is rather ironic that people don't want to be full-time writers because it is not a stable source of income but when they treat writing as a part-time job, they will never develop their own unique style.
Perhaps it is this kind of distinctive perspective that has drawn the attention of the media.
His first piece of criticism on public affairs came when he was the deputy editor of Eastern Express, an English newspaper in Hong Kong, and his fame grew for his eloquence, humorous and punchy writing style.
The renowned journalist-turned-columnist (and critic) has written in the columns of several local newspapers, and even brought his criticisms on air.
He has also taken up several jobs, such as teaching in two local universities, being a spokesperson, rapping for a local band and being the creative director of a media group.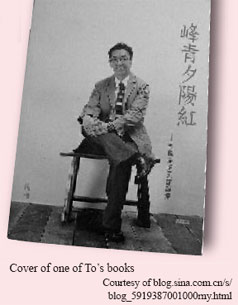 However, this has provoked criticisms of him being too commercial, lacking the temperament of a writer.
"There is nothing wrong to be commercial. Being commercially successful means being popular," he stressed, adding that writers do not have to be shabby and poor if they could keep producing writing of high quality.
Meanwhile, he is often condemned for favoring Britain and looking down upon his home country.
"I have no political affiliation," he declared, adding that he only admires good cultures, which include Chinese poetry. He clarified that he also criticizes Britain, a fact that is overlooked by people.
"I lived in Britain for 16 years so this is a country with which I am familiar. To me, Britain is like a former girlfriend whose goodness I will always cherish. This is human nature," said the writer who is famous for his metaphors, which often involve relationships and sex, which again arouse controversy.
But Tsao feels indifferent to all the criticisms. "Sex is not shameful. It is the most understandable and entertaining topic among modern people." He insisted that he writes for the masses and so he needs to hit the nail on the head and won't be equivocal.
So among all the jobs that Tsao has, which is his favorite?
"I prefer writing about the world and culture," he answered.
"Writing is a mysterious experience. Inspiration keeps coming if you do not cease writing. I have been writing every day for years without holidays," he laughed.
The professional writer revealed that to be creative in writing, one has to be observant, which is an inborn characteristic. But a person can learn by reading more Chinese and English literary works and trying to comprehend the essence of both cultures.
He added it was a pity that people nowadays rely too much on computers and spend a lot less time on reading.
Despite being dubbed a wit, Tsao insisted he is just an ordinary man.
"It's an exaggeration. When you read more books you will know more true wits," he said.
Tsao said he does not have a benchmark for success. All that he wants is to write every day while taking good care of his family.
He asked his two young sons to recite poems from the Tang Dynasty so that they can learn about Chinese culture.
"We should preserve our own culture such as poems, philosophy and literature to make our nation distinct from the others." Tsao remarked.
(HK Edition 10/16/2008 page4)