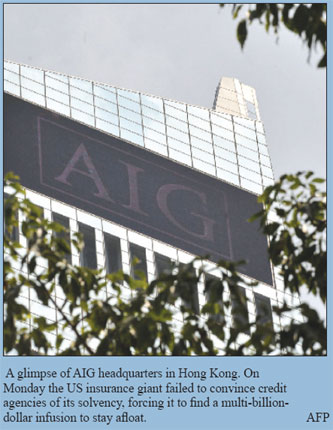 Policyholders are worried about their investments in AIA, the Hong Kong arm of troubled US giant American International Group (AIG), although AIA said its operations are sound and financial strength is healthy.
Many customers have called up the insurer, which took up a 16.2 percent market share in Hong Kong by the end of last year, to ask whether their investments are at stake, Tim Wong, an AIA agent, told China Daily.
"I can feel investors are losing confidence. The issue will no doubt have an impact on the company's reputation and that will make it more difficult for us to find insurance customers in the near future," Wong said.
David Chan, an AIA fund buyer, said he will re-examine his investment portfolio, though his plan with AIA seems to be unaffected by the AIG crisis.
"The issue has really got me worried. It seems there is no safe place to put my money," Chan said.
Chan has been buying funds with AIA for two years, which cost him around HK$50,000.
AIA reassured its policyholders yesterday that the company will continue to maintain a stable operation.
The insurer said in a statement yesterday that they have strong and well-positioned business in diverse markets around the world, as well as a deep and adequate asset base.
Although its parent company AIG is now facing short-term liquidity pressures, AIA made a promise to its policyholders that the company will maintain its business.
Meanwhile, government officials also tried to soothe the investors' worries away.
Financial Secretary John Tsang said the government is closely monitoring the AIA situation.
According to Tsang, the Insurance Authority has been in touch with the senior management of AIG and AIA since the credit crunch surfaced in the US and that has helped the authority assess the impact of the crisis on the companies and their ability to make debt repayments.
"The Insurance Authority has a wide range of statutory powers to protect the interest of policyholders and the government will also keep a close watch over the developments," Tsang said, adding that Hong Kong has a healthy insurance regulatory system and the government should be able to handle the current situation.
Meanwhile, Commissioner of Insurance Clement Cheung said the financial situation of AIA is healthy and the company has adequate asset to fulfill its debt obligations.
He said AIA's insurance assets should be separated from company's other businesses.
"The next two to three days will be a very critical moment and we will closely monitor its development," Cheung said.
He added that the laws and regulations in Hong Kong can protect the right and interest of policyholders.
(HK Edition 09/17/2008 page2)