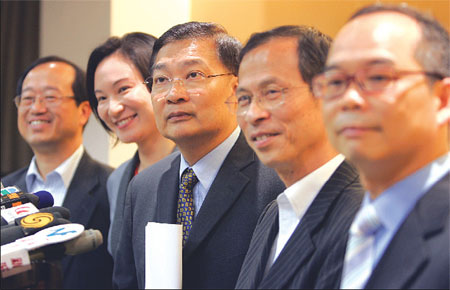 Chairman Tam Yiu-chung (center) reveals the DAB's candidate list for September's LegCo Election yesterday. Edmond Tang
The Democratic Alliance for the Betterment and Progress of Hong Kong (DAB) yesterday announced the fielding of 29 candidates in five teams to run for geographical constituency seats in the 2008 Legislative Council (LegCo) Election on September 7.
Sixty members will be returned to the LegCo, 30 of them by geographical constituencies and the rest by functional constituencies.
Among the DAB candidates, six are current LegCo members and 21 incumbent district councilors.
"The characteristic of the list is that it contains many young professionals who have rich experience in district services," chairman Tam Yiu-chung said at a press conference yesterday.
The focus will be on the Hong Kong Island constituency after Anson Chan Fang On-sang decided not to run for the election.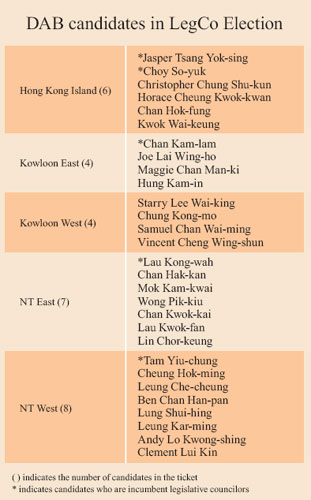 Former DAB chairman Jasper Tsang Yok-sing will move from Kowloon West to Hong Kong Island to lead a team of six in which Choy So-yuk is the second candidate.
Chan Kam-lam and Starry Lee Wai-king will be the leading candidates of the DAB tickets in Kowloon East and Kowloon West constituencies respectively.
Vice chairman Lau Kong-wah will head the ticket in New Territories East, followed by Chan Hak-kan, who just resigned from the post of special assistant to Chief Executive Donald Tsang Yam-kuen.
Tam will lead in the New Territories West constituency with Cheng Hok-ming and six other candidates.
Tam revealed that his partner Li Kwok-ying would not run again in the coming election to make way for fresh political talents.
But he did not answer if vice chairman Ip Kwok-him will run in the election.
"You will know when we announce the fielding for functional constituencies next week," he told the media.
The DAB won 12 seats in the 2004 LegCo Election and became the biggest political party in the LegCo.
Choy So-yuk became the only DAB lawmaker in the Hong Kong Island constituency after former chairman Ma Lik passed away.
When asked if the DAB will separate the list on the Island to better secure the original two seats, Tam said it is the party's practice to take one team as the electoral unit as this would smoothen the whole electoral campaign.
He did not comment on the possible participation of former security chief Regina Ip Lau Suk-yee in the election, as "much could happen before the nomination period ends".
Meanwhile, the Civic Party also announced its candidate list last night in two constituencies.
In Hong Kong Island, the candidates are Tanya Chan, Audrey Eu Yuet-mee, and Amy Yung Wing-sheung.
(HK Edition 07/09/2008 page1)