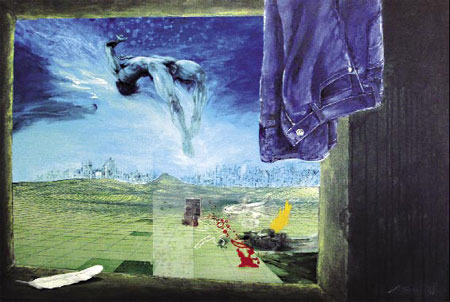 Moksha Dive by Arnel Agawin.
While the world's attention is on contemporary Chinese art, the Hong Kong public is yet to discover a burgeoning Filipino arts scene in town, one that takes us beyond stereotypes to the heart of the minority culture.
Now in its third year, the Philippines Arts Festival 2008 showcases works and performances by over 40 Hong Kong-based Filipino artists, photographers, actors and musicians from June to July.
Underlined by a distinctive brand of Filipino passion, sensitivity and colors, the works are the interpretations of the artists' experience as migrants in Hong Kong, said the festival organizer Rex Aguado.
"The festival stands for liberation of our creativity and sharing of our cultural experience with the larger community. The artworks show our longing for home, and a minority culture discovering and expressing itself," Auguado remarked.

(Left): Silent Vigil by Hari Lualhati. (Right): Fire Escape by Bobit Segismundo
The creative dialogue manifests itself in a wide range of topics. In "Chronicle of Pain Colored", an exhibition held in Osage gallery in Soho, painter Bobit Segismundo explores the artist's solitude and his concerns about the society at large.
"The pain stems from losses in my personal life, such as the passing away of my father last year," Segismundo noted. "My artworks are the manifestations of my inner feelings. It's up to the audience to take it or leave it."
Segismundo is also concerned with the hidden pain in this town. "There's a lot of grief among the homeless, the powerless in Hong Kong. The saddest thing is that nobody goes beyond the pretense of happiness; nobody wants to face the pain."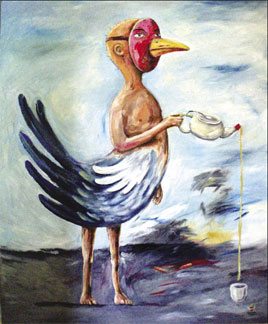 Drink Tea by Justo Cascante III.
Fellow artist Justo Cascante III has a different view on the relationship between Hong Kong and his artistry. In his painting Drink Tea, Cascante depicts his immersion and delights in the local culture.
"I like to put together different visual and cultural elements in my artworks," Cascante said. "Hong Kong has a very diversified dynamic through its everyday objects and people. It gives an artist plenty of sparks."
While the city inspires artistic creations with its unique character, it also imposes many practical constraints on the artists. While Cascante juggles his designer job with his artistic expression, Arnel Agwin finds himself in confined space for making art.
"The physical space is a problem: there simply isn't enough space for me to do a large painting," Agawin explained. "At the commercial level, it's so hard for us to live out our art when all the hype is around modern Chinese artists."
As one of the most established Filipino artists in Hong Kong, Noel De Guzman has seen his paintings exhibited around the world. Yet, he sees himself an alternative presence in the local art scene, where Filipino artists are under-appreciated.
"With the wealth of creative talents in our community, it's a matter of time when we'll get more attention," De Guzman said. "Our art is very conceptual, high quality art and it should add vibrancy to the local scene."
As the festival reveals the poetry of Filipino art to the local audience, it also launches young, fresh talents. Hari Lualhati, who made his Hong Kong debut in 'Alternatibo' in Floren Gallery, is one of them.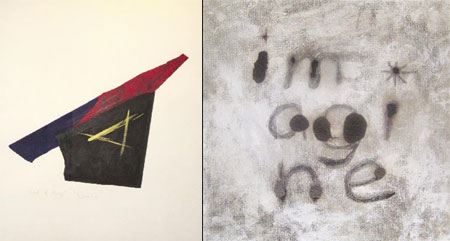 (Left): Wind of Change by Rene Caintic. (Right): Imagine by Noel De Guzman
"I feel there's a lot of room for young artists to create and innovate in Hong Kong, since its art scene is still young," Lualhati said. "As an artist, I seek to express emotions directly and effectively on the canvas."
Besides exhibitions by experienced and emerging artists, the festival encourages participation of the Filipino community in various activities, such as an amateur painting contest and a dramatherapy workshop for helpers.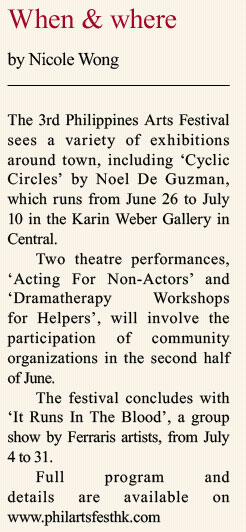 Another proof to the festival's diversity is the exhibition by Pinoy Photographers Club, "ex-press", which was held in the Philippine Consulate in June and will be re-run in the Fringe Club from 3 to 15 July.
"These photographers are from bankers to domestic helpers," Aguado pinpointed. "If you put aside the stereotypes of Filipinos as helpers and drivers, the festival is a message that we're a very sophisticated and creative people."
While the artists contribute to the funding of the festival out of their own pockets, Aguado stated that there have been commercial sponsorships and anonymous donations.
"The backing of renowned galleries, such as Osage, Asian Fine Art and Karin Weber Gallery is also indication the local audience is aware and supportive of our art scene. I've also received very good feedback from the audience," Agaudo noted.
The recent sales of a few Filipino artworks at large-scale auctions houses such as Christie also help draw public attention, as they are testimony that Filipino artists have universal appeal and can command high prices for their art.
"The festival is a platform for our artists to gradually enter the mainstream art world in Hong Kong. In the end, though, we want to share our talents with people in Hong Kong, a town we've adopted as our second home," Agaudo said.
(HK Edition 06/25/2008 page4)