A different kind of reading culture
By Louise Ho (HK Edition)
Updated: 2008-03-11 06:43
Playing NDS, listening to iPOD, talking on cell phone...Hong Kong people always busy themselves on bus or train but reading does not seem much of a popular choice nowadays.
"Reading is dead," some say.
But writers and scholars think the scenario is not that bad.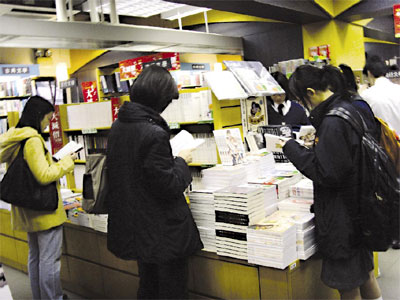 People browse a book store in Hong Kong. Photos by Louise Ho
Hong Kong English novelist Xu Xi does not think the reading culture is dying. On the contrary, she believed it might even be improving.
There are now more book fairs, literary festivals, and more focus is put on reading in schools and in the city, she said.
She thinks the growing reading culture emerged quite recently.
"Hong Kong is not historically a good reading city, and part of that has to do with the economic and cultural growth of the city," she said.
She recalled that the Hong Kong she grew up in in the 1960s was quite poor. Until the city became economically strong, it was difficult to foster a reading culture when the main concern was to make a living.
She noted that the only reason the reading culture in Hong Kong seems to be improving is that there was not much of a "reading culture" to begin with.
Mainland China, Taiwan and Singapore, for example, have much stronger reading cultures than Hong Kong, she said.
The problem in Hong Kong schools and the general culture, she explained, is that "the idea of literature is often tied to the reading of foreign literatures (especially English) or classic Chinese literature which young people sometimes cannot relate to".
"What isn't emphasized in Hong Kong is the joy of reading for self discovery and understanding," she said.
"In general, we lack a focus on humanities and development in our educational culture. Critical thinking and creativity which are essential components in fostering a reading culture are not emphasized".
She has noticed that students of the Lingnan University, the most liberal arts-focused university in Hong Kong, enjoy reading for learning, and not just for getting a degree or a job.
But she pointed out it has become universal that the reading culture is diminishing.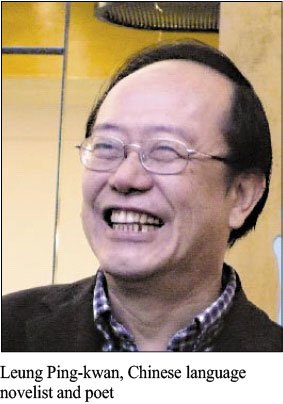 Other media - TV, films, computer games and the Internet - have distracted readers from books, she said.
"Also, the overwhelming amount of information that bombard us everyday means it is hard for people to stay focused which is pivotal in fostering a reading culture," she said.
Leung Ping-kwan, Chinese language novelist and poet with pen name "Yah See" said people read less than they did in the 1970s, when reading was the mode.
Leung is also chair professor of Comparative Literature at Lingnan University.
Apart from the fact that people nowadays lead a much busier life and our society stresses on money-making, the media also plays a part in the vanishing reading culture.
Hong Kong media does not encourage reading. There are now very few book reviews in newspapers or such programs on TV or radio, he said.
"Hong Kong people, especially the youngsters, find games or variety shows much more appealing than book review programs," he said.
Leung stressed that books are important to shape a person's manner and it cannot be replaced by anything.
While he did not think the reading culture has completely disappeared, he admitted more needs to be done to make reading more popular.
He said the most effective way to encourage reading is to have more book reviews.
"We can introduce more book review programs through the media. The media has a powerful influence on people," he said.
Although a book fair in 2007 saw a record number of participants, he said it was only the first step, not the end.
At the Lingnan University, they have activities to promote reading, such as reading courses, talks and writing competitions, he said.
He advised people to start reading books that interest them the most.
If you are a food lover, start with books on food history and culture, and broaden the scope of reading, he suggested.
Taiwanese writer Li An said the same problem that people read less happened in the west some years ago when people thought reading was going "backward".
But it came back when people realized that books are irreplaceable, she said.
However, she doubted if the culture would come back to Hong Kong.
"Hong Kong is too commercialized to bring back the reading culture," she said.
However, Tse Shek-kam, education professor at the University of Hong Kong said at least reading as a hobby has become more popular among Hong Kong students, thanks to the education reform in 2000 that encourages reading in schools.
In fact, the new policy has been so effective that Hong Kong primary four students came second in "Progress in International Reading Literacy Study 2006" among 45 countries and regions, he said.
The government has changed its strategy on "read to learn", he said.
Schools were given more money to buy books. Now every school has a library and not just a small cupboard containing books in the classroom, he said.
There are now daily sessions in schools for reading alone to make reading a habit for children, he said.
The education reform has also introduced interesting activities to help children read, he said.
For example, instead of doing a book report, children are asked to tell a story. This is a more effective way for children to appreciate a book, he said.
Children can also write their own ending for a story as one of their exercises. This can improve their creativity and writing skills, he said.
But he admitted family reading is still insufficient in Hong Kong.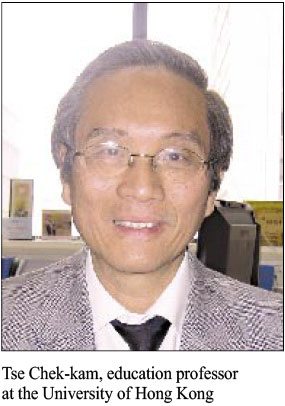 "Parents should find more time to read with children and they should read more to set an example for children," he said.
"It will make reading a life-long habit for children if they are taught to love reading at a tender age," he said.
Cheung Chi-hung, chairman of Hong Kong Aided Primary School Heads Association, said schools have put in many resources to encourage students to read, such as setting up a yearly reading target.
In Hong Kong, popular books that people buy or borrow are still in the "practical" realm, like self-help books.
In 2005-6, the most popular books for adults in public libraries were fictions, language learning books and commercial books.
In 2007, half of the 20 most popular non-literary Chinese books sold at the Commercial Press were about investment and financial planning.
Hong Kong people also have a taste for movie hits and like to read books that have been adapted into films.
That is why The Devil Wears Prada, Charlotte's Web and The Chronicles of Narnia have topped the most popular literary English book list of the Commercial Press in 2007.
Reading is not dying in Hong Kong, but it certainly needs improving.
(HK Edition 03/11/2008 page4)