Shum to be buried in Vancouver
By Peggy Chan (HK Edition)
Updated: 2008-02-21 07:18
Veteran comedienne Lydia Shum Tin-ha will lay in peace at Forest Lawn Memorial Park in Vancouver next week, Shum's friend Florence Chen Suk-fan said at a press conference yesterday.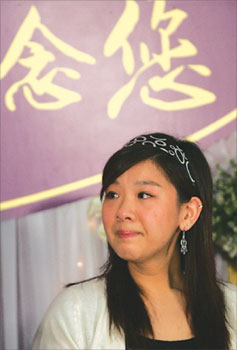 Joyce Cheng, daughter of the late Hong Kong actress and comedienne Lydia Shum, holds back tears at a press conference she gave yesterday to recount her mother's last days. Edmond Tang
The funeral arrangements are in accordance with Shum's will, Chen added.
The funeral will be recorded and shown at a memorial service that is to be held on March 2 at Hong Kong Coliseum. Chen will be in charge of both the funeral and the memorial service.
"Mom had been fighting the disease for a long time," Shum's only daughter Joyce Cheng said. "I hope people will not be too upset as she was fighting really hard and now she's gone somewhere much more peaceful."
The entertainment icon who is also known as Fei Fei, died at Queen Mary Hospital Tuesday morning. She was 62.
She had reportedly been suffering from bile duct inflammation, liver and gall bladder cancers for over a year.
Cheng said her mother passed away peacefully in the company of relatives and friends.
"I will try my best to learn to be a responsible woman," Cheng said, adding she would also be a good girl.
In addition to Cheng and Chen, Shum's sister Viola Chiang and brother-in-law Chiang Jia-ling, Chen's son Chan Ka Ho as well as Amy Cheung, wife of director Chang Cheh, were present. They did not answer any questions.
"Fei Fei, we will remember you forever" was written on the backdrop used in the conference.
A picture of Shum which was taken during the celebration of TVB's anniversary in 2005 was displayed.
Shum's sister thanked the hospital, especially Shum's doctor Lo Chung-mau.
Cheng extended her gratitude to Shum's fans and peers who have expressed their concern during Shum's hospital stay and after her death through text messages, emails and over the phone.
"It really helps us deal with our loss," she said.
Chen asked those who did not get to visit her before not to feel regretful as Shum wished everyone to remember her happy face.
"We told her (Shum) about the text messages and emails, but she did not want to show up looking weak," Chen said.
"She thought she could return home healthily," Chen added.
TVB will offer assistance whenever Shum's family needs it even though Shum's contract with TVB was already terminated before she passed away, external affairs assistant controller Tsang Sing-ming told the media after the press conference.
He said TVB artists felt sorrow at Shum's death.
Meanwhile, the Hong Kong Film Archive will hold a screening of Shum's movies, Homes Affairs Secretary Tsang Tak-sing said.
(HK Edition 02/21/2008 page1)