New Media's doubling debut
By Hui Ching-hoo (HK Edition)
Updated: 2008-02-13 07:19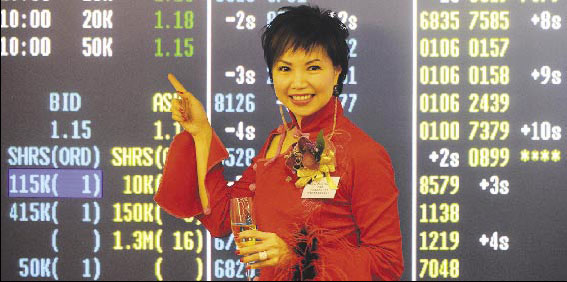 Shirley Percy Hughes, the CEO and executive director of New Media Group Holdings, points to the board after the company's IPO at the stock exchange in Hong Kong yesterday. Shares of the company - a Hong Kong-based publisher - gained nearly 112 percent on its trading debut, with the overall market rising 305.56 points, or 1.35 percent. AFP
The IPO listing of New Media Group Holdings yesterday bucked a recent trend of poor public offerings when it more than doubled in value.
Analysts predicted the first public listing of the lunar new year would do well, but New Media's 112 percent surge was well beyond the more conservative estimates of around 20 percent.
Buoyed by a small market rebound, the shares were listed at HK$0.68 when the market opened, and they closed at HK$1.44. A total of 180 million shares changed hands, and the transaction value was HK$253 million.
No bad considering just about every other new IPO since October dropped in value on its listing day.
An investor with one lot of the New Media shares would have pocketed HK$3,800 from the surge.
Because of the unstable market and several bad openings, the IPO market has been bare since January. Many companies opted to hold their listings until after the lunar new year.
So, New Media became the first IPO to debut this year.
The company's management said it wasn't worried about the weak market sentiment because its core business is Hong Kong based, and therefore less sensitive to international markets that are doing poorly.
Still, the company buckled under the pressure in January and put its listing on hold amid a cold market response to its IPO.
New Media was under the control of tycoon Albert Yeung-led Emperor Group. The group spun off its securities arm Emperor Capital Group in early 2007, and its IPO debut in March was the best of the year.
When the company debuted on the Hong Kong Exchange last March, shares skyrocketed 260 percent from its offering price on the first trading day.
New Media Group Chief Executive Officer Shirley Percy Hughes spoke with reporters on the sidelines of the listing ceremony.
"The company recorded a 53 percent increase in net profit in the last financial year," Hughes said, adding that the growth momentum sould be sustainable given that the company's advertisement income will benefit from a robust local economy.
She added that the company will explore online and multimedia options to keep growing.
"Two of the group's publications - Economic Digest and Fashion & Beauty - will release online versions that will significantly enhance our competitiveness," Hughes said.
Prudential Brokerage Associate Director Kingston Lin said many IPO newcomers often set their prices much too aggressively and scare investors away, but New Media Group priced its shares fairly reasonably.
"With the market correction, we believe only quality and mega-sized companies can lure investors back to the IPO market."
(HK Edition 02/13/2008 page2)