Regulators' differing views could delay Max's return
The US Federal Aviation Administration, or FAA, and European regulators may differ about fixes needed to the Boeing 737 Max's anti-stall device, and a disagreement could further delay the plane's return to service.
Regulators disagree over how the Max's two flight-control computers will work together. Under the revised system, the computers would work in tandem to provide redundancy to eliminate hazards from possible chip malfunctions, The Wall Street Journal reported on Tuesday.
Previously, only one computer fed information to the Max's automated flight control system, and use of the computers alternated between flights. Boeing and the FAA are testing the dual-computer system, but the results haven't yet been presented to the European Union Aviation Safety Agency, or EASA, or to other regulators, the newspaper said.
"It's going to turn into a political football," Robert Mann, president of R.W. Mann& Co, an aviation consulting firm in Port Washington, New York, told China Daily. "I suspect the issue is more likely to be training than software. The Canadians may insist on simulator training rather than just an iPad course for pilots."
In a statement, Boeing said: "We continue to work with regulators on addressing their concerns and working through the process for certifying the 737 Max software and training updates and safely returning the airplane to service. Looking forward, we continue to target regulatory approval for the 737 Max return to service this quarter, though it's the FAA and other global regulators who ultimately will determine the timeline."
The Max jet crashes on Oct 29, 2018, in Indonesia and March 30 in Ethiopia killed 346 passengers and crew. Investigators have focused on the Max's automated anti-stall device that may have erroneously pointed the nose of the plane down to gain speed to prevent a midair stall and into a fatal plunge.
Previously, European regulators said that they would work with the FAA and jointly perform simulator training and risk analysis, but now the regulators appear to differ on what's needed to test the dual computer system. That could lead to different tests and standards unless a compromise can be reached, the Journal reported.
However, the newspaper said EASA "hasn't specified what additional measures might allay its objections".
Returning the plane to service is vital to Boeing because it must decide if it will further cut production or temporarily shut down a plant near Seattle, Washington.
scottreeves@chinadailyusa.com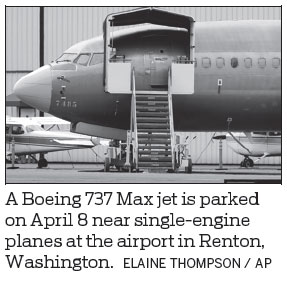 (China Daily Global 10/10/2019 page7)
Today's Top News
Editor's picks
Most Viewed