'Cobots' fueling growth of nation's robotics sector
Despite slowing growth in the shipment of industrial robots worldwide, collaborative industrial robots, known as "cobots", are expected to become a growth engine for the industrial robots sector, and China will take center stage in the new trend, experts said.
China's domestic suppliers sold 43,600 units of industrial robots last year, up 16.2 percent year-on-year, and China accounted for 36 percent of total global installation.
China has been the world's largest industrial robot market since 2013, and for the first time, the International Federation of Robotics published its annual report in Shanghai on Sept 18, showing the great importance it attaches to the Chinese market, said Song Xiaogang, executive vice-president of the China Robot Industry Alliance.
According to the IFR report, the total value of installations in China surged 21 percent year-on-year to $5.4 billion. However, the installed amount (154,000 units) represented a 1 percent drop compared with the previous year, due to a decline of 7 percent to about 113,000 units from foreign robot suppliers. In contrast, Chinese robot suppliers increased their share of total installations in the domestic market by 5 percentage points to 27 percent.
Steven Wyatt, IFR vice-president and group vice-president of ABB, attributed the change to a number of factors, including China's policy to promote domestic manufacturers, as well as the weakening automobile industry.
Similarly, despite a new global sales record of $16.5 billion in 2018, the main customers for robots - the automotive and electrical-electronics industries - had a difficult year. The IFR forecasts that shipments this year will recede from the record level in 2018.
"Chinese suppliers are strong in exploring industry sectors beyond automotive and electronics, which opens up a potentially unlimited market, and makes the robotics industry less susceptible to any risks caused by weaker phases in single industries," said Susanne Bieller, general secretary of the IFR.
Compared with industrial robots, which have been around for about 50 years, cobots are relatively new, but this is an important category moving forward that will represent a significant portion of growth in the future, said Wyatt.
Cobots are designed to physically interact with humans in a shared workspace, in contrast with most industrial robots used nowadays, which are tasked with operating autonomously or with limited guidance. Unlike traditional industrial robots, cobots' ability to collaborate with human beings is more suitable for meeting the needs of industries with more specific, flexible or personal requirements.
For the first time, the World Robotics report, published annually by the IFR, analyzed the market for cobots, which are designed to perform tasks in the same workspace as human workers. The IFR definition implies that a cobot is necessarily an industrial robot.
Despite a share as low as 3.24 percent in terms of the number of units installed, there were fewer than 14,000 out of more than 422,000 industrial robots installed in 2018, a year-on-year rise of 23 percent from 2017.
"This category is growing based on last year's data at four times the average market," said Wyatt.
China has witnessed a compound annual growth rate of 80 percent for collaborative robot sales and 65 percent for market scale between 2014 and 2018, as the nation sold 6,320 cobot units and reached a market value of 930 million yuan ($130 million) in 2018, said the Blue Paper of the Cobots Industry for 2019.
The report was jointly published by Shanghai-based cobot maker Jaka and Shenzhen Gaogong Industry Research Consulting Co on Sept 17.
It forecast that the market will more than double to 18,500 units of sales in China by 2021, and the market scale will exceed 2.45 billion yuan.
Since the world's first commercial cobot was produced by Universal Robots in 2008, cobots have won great recognition from a variety of industries, and more than 100 enterprises worldwide have delved into this sector, with more than 70 of them entering the Chinese market, said the report.
Christopher Muller, director of the IFR's statistics department, said the line has been blurred between industrial and service robots, with the latter reported to have reached $12.9 billion in global sales value last year.
"I think that collaborative robots are one reason for the blurring lines, because this type of robot is suitable for use in both categories. Many service robotics applications do work in close collaboration with humans, so their safety requirements are comparable to industrial robots that do work without safety fences," said Bieller, the general secretary of the IFR.
Targeting the promising robotics market, 65 robotics industrial parks had been built or were being developed across China as of 2018, according to the Shenzhen-based Qianzhan Industry Research Institute.
By introducing a handful of robotics giants including Fanuc and Yaskawa, Shanghai's northern Baoshan district is building a demonstration area for robotics and high-end equipment manufacturing services. The aim is to attract more than 300 robotics enterprises and form an industrial cluster with an accumulated value of more than 100 billion yuan in the future.
"Our goal is to create a complete robotic industrial chain by establishing across-the-board, in-depth strategic collaboration with leading robotics enterprises," said Wang Hong, Party chief of Baoshan district.
China's robot industry has grown rapidly, with government support for industries that are seeking to deploy robots for the first time. However, foreign suppliers still have an advantage in some applications, especially for robots used in the automotive sector, said Bieller.
It is estimated that sales of industrial robots will grow 4 percent this year in the Chinese market, while domestic robots sales are expected to grow 15 percent.
Junji Tsuda, president of the IFR, said, "The US-China trade conflict imposes uncertainty on the global economy - customers tend to postpone investments.
"But the ongoing automation trend and continued technical improvements will result in double-digit growth - with an estimate of about 584,000 units in 2022," Tsuda said.
wang_ying@chinadaily.com.cn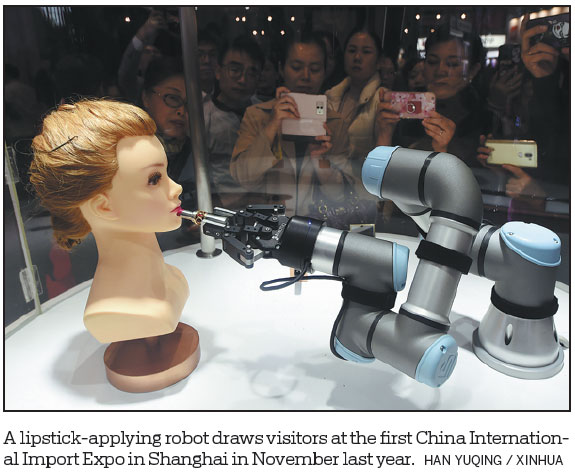 (China Daily Global 10/10/2019 page1)
Today's Top News
Editor's picks
Most Viewed