Revisiting a forgotten passion
Piano schools for the elderly are offering many a chance to reignite their love for a musical instrument that was once considered a luxury item that few could afford, Zhou Wenting reports.
Zhang Lingxin, a 65-year-old retired school teacher in Shanghai, can now play two piano songs, Auld Lang Syne and Butterfly Lovers, or Liang Zhu, the Chinese version of Romeo and Juliet, after learning the piano for two years.
"I loved music when I was a little girl and learning to play the piano was my childhood dream. But having a piano was a luxury back then. Very few families could afford one," Zhang says.
"Now, when I get the chance to play the piano, I feel that my childhood dream has finally come true. The children of today may not feel the same way," she says.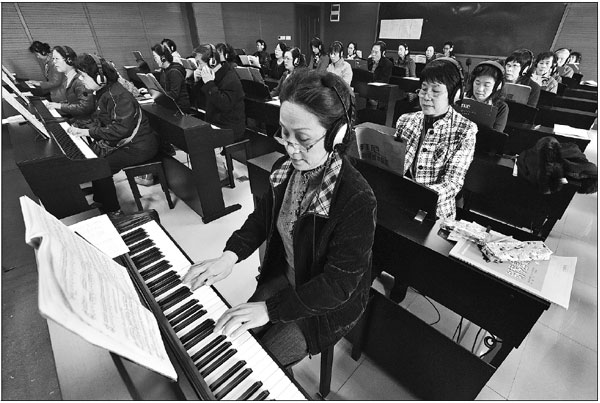 Students at the Hubei University for the Elderly learn to play piano in Wuhan. China's strong presence in the piano manufacturing industry makes the instrument more affordable, and many elderly citizens have decided to pursue their love of music. Cheng Min / Xinhua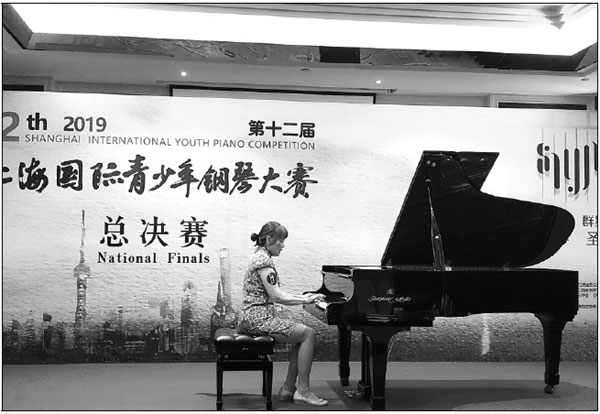 Ma Runqiu, 62, performs in the national final for the senior group at the 12th Shanghai International Youth Piano Competition held from Aug 14 to 18. She won second prize. Provided to China Daily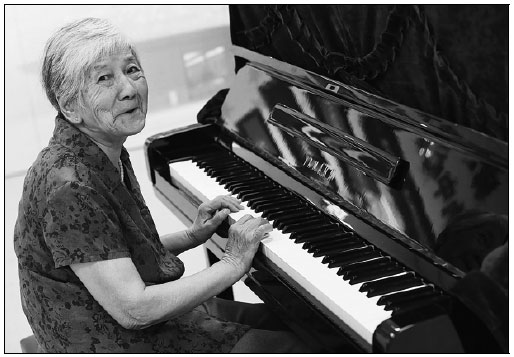 Retired teacher Xia Juanjuan, 83, plays piano at the citizen service station in Jiaxing Road subdistrict, Shanghai's Hongkou district. Zhu Xingxin / China Daily
Two decades ago, Shanghai became the country's first city where community schools offered piano lessons to the elderly. Every year, nearly 2,000 piano classes are organized. According to official statistics, about 100,000 senior citizens have participated in these classes.
Lyu Lunyu from the teaching department of the administration of Shanghai's community schools for the elderly says that most of the senior citizens in these classes never had the chance to learn the piano during their youth.
"A very small number of them learned piano for a short time during their childhood or teenage years but stopped as the parents didn't believe that it was a worthwhile pursuit," he says.
Although she thoroughly enjoys playing the piano, Zhang lamented that she is not able to pick up the discipline as quickly as she would like. She says she envies how quickly her grandson has progressed since he started to learn the piano two years ago at the age of 6.
"Playing the piano is about having the mind process a piano score before sending signals to our 10 fingers. But for us the elderly, the whole process is very much slower. Very often when I focus on my right hand, my left hand goes idle," she says.
Zhang pays only 200 yuan ($28) per semester to attend a two-hour piano class at a community elderly school once a week. Most of the students at this school, she says, are aged between 60 and 80 and have little or no experience in playing music. These elderly students start by learning the basics, such as the proper way to sit and hand gestures, and practice for at least two hours a day. Assignments are given during each class to help students execute what they have learned.
Zhang says that it is common for elderly people to forget what the teacher taught during the class the moment they arrive home. As such, they need to take extra measures to ensure they don't fall behind.
"As soon as I get home, I would practice repeatedly what the teacher taught so that I don't forget. Such perseverance also comes from the happiness and sense of achievement of mastering new skills and not setting limits for ourselves. It is very satisfying when we can interpret a piece very smoothly or play a song without stopping," she says.
Piano educators from around the world have said that learning the piano is an activity that only becomes common when a society has achieved a certain level of prosperity. Some experts have also pointed out that China's strong presence in the piano manufacturing industry in recent years has also provided its citizens with more opportunities to purchase higher quality pianos.
"Over the past decade, a lot of good piano makers have come into being in China and this has made pianos more affordable, in turn allowing many people to own one at home and enjoy playing music by themselves," says Maxim Mogilevsky, a pianist from Russia.
"Earlier this year, the International Tchaikovsky Competition used a Chinese brand of piano for the first time. Many participants said they loved the sound and wanted to buy the Yangtze River pianos. Meanwhile, the number of imported pianos for China is rising dramatically," he adds.
Ma Runqiu, 62, first learned the piano in her 30s when she sent her son for piano lessons. She says that she even made the effort to observe her son during lessons and book separate sessions for herself.
However, due to work commitments, Ma had to stop learning the piano after a year. Her son also stopped playing the piano after learning it for two years.
"But whenever I saw the piano at home, I felt like it was constantly reminding me to start learning again," she says.
Ma only did so after retiring seven years ago. In mid-August, she won a seat in the national final for the senior group at the 12th Shanghai International Youth Piano Competition - a special section dedicated to elderly piano players - where she went on to win second prize.
She confesses that she didn't take the piano seriously before because she believed that it was only meant for children and young people.
"I only changed my mind when I had an opportunity to perform onstage for our community. This made me believe that we should treat it seriously as piano playing is so elegant," she says.
Zhu Yafen, a renowned piano educator and the former dean of the piano department at the Shenyang Conservatory of Music, says some of the elderly piano learners at the school were people who took piano lessons when they were young but stopped because of work commitments.
"A true love of music is like a true friendship - it will withstand the test of time," she says.
Contact the writer at zhouwenting@chinadaily.com.cn
Proof of music as a health remedy
Russian Pianist Maxim Mogilevsky says that music is a unique universal language that has been scientifically proven to stimulate the production of dopamine, one of the chemicals in the brain that induces happiness.
"When you are playing music, it is healing your soul and body," he says.
That was exactly the case of Jin Yan, a 57-year-old retired bank clerk in Shanghai, who says that it was the piano that lifted her out of depression after she was diagnosed with breast cancer seven years ago.
"My sister encouraged me to take piano lessons together. She hoped that it could be a way for me to find happiness again while getting some exercise after the surgery," she says.
"Those pleasant piano tunes reminded me of the happy times from my early childhood days when my parents would sing the same tunes to me. This helped me to pull through that dark period in my life," says Jin.
Mo Zhiyong, 68, is another person who can attest how learning the piano can lift a person's mood and provide health benefits. Mo suffered from a cerebral ischemic stroke five years ago and has since been practicing the piano for an hour every day for four years to improve his motor skills.
"I just didn't want my child to worry about my health and I took the doctor's advice. Gradually I found practicing playing the piano also cured my forgetfulness and my memory is now better than several years ago," says the Shanghai native.
He says jokingly that he chose to learn to play the piano rather than play mahjong as the former is more meaningful.
He says that some of his peers have also been learning the piano in an attempt to prevent the onset of Alzheimer's disease.
"We believe that the more we exercise with our minds and hands, the more we can mitigate the effects of aging," he says.
(China Daily Global 09/06/2019 page16)
Today's Top News
Editor's picks
Most Viewed