Lam appeals for calm in Hong Kong
Rule of law called priority to keep city away from 'abyss of destruction'
Hong Kong Chief Executive Carrie Lam Cheng Yuet-ngor appealed to the public on Tuesday to calm down, set aside differences on political issues and oppose escalating violence that is pushing the city into "the abyss of destruction".
The leader of the special administrative region made the remarks before a weekly meeting of the Executive Council, her top policy advisory body. The meeting was held two weeks before the end of its summer recess, as Lam considered that more assistance is needed in Hong Kong's difficult time.
"The top priority now is to oppose violence and safeguard the rule of law," Lam said. "Rational discussions will start after the city's law and order is restored. And that's when we can mend what has been rifted."
Lam called on the public to take a second to reflect and look at the city, which has been torn apart since June 9 by protests that turned residential and business areas into conflict zones.
Large-scale protests in the past week included obstruction of public transportation and major roads, violent clashes with police in multiple locations, and unlawful demonstrations in the airport that forced all flights to be canceled on Monday afternoon. In addition, all departing flights were canceled on Tuesday afternoon.
Lam said the chief executive's responsibility is to ensure that Hong Kong remains a safe and law-abiding city. "Because without the rule of law, without law and order in Hong Kong, it is extremely difficult for the 7 million people in Hong Kong to live in peace and order," she said.
Meanwhile, Singaporean Minister for Law and Home Affairs K Shanmugam has said international news media have presented a "confused "picture of events in Hong Kong, and Singapore will never benefit from troubles there.
"If you look at it internationally, outsiders looking in, I think a confused, muddied picture has been presented because international news organizations have dealt with very superficial analysis, engaged in labeling," Shanmugam told Hong Kong's South China Morning Post and Singapore's Lianhe Zaobao, the largest Chinese-language newspaper in Singapore.
" (In their view), all protesters are automatically, generally, democracy fighters. Police on the other hand, are oppressive, attacking the forces of democracy, using excessive force. 'They're negative, they're an evil force,'" he said, according to transcripts posted on the ministry's website on Sunday.
Such coverage reflects a skewed perspective from an ideological lens, he said.
Shanmugam said he did not believe that Singapore benefits from the troubles in Hong Kong, in reference to reports that some businesspeople based in Hong Kong had begun moving their assets overseas.
"We benefit from stability across the region, including Hong Kong," he said. "If China does well, Hong Kong does well, the region does well, we do well."
He said that there are many Singaporeans who believe they are lucky that similar things are not happening in Singapore.
"If this happened to us, it would be bad for our economy, and we don't have the advantages Hong Kong has to weather such a situation," he said.
"Hong Kong has the huge advantage of China's support. Singapore has no one to support it."
He said Hong Kong possesses deep strengths, including its financial system, stock exchange and proximity to the mainland, all of which savvy investors would note, according to the SCMP report.
"Unless people become pessimistic about China, I don't see immediate calculations being made by serious investors," he said.
Shanmugam also said China's system selects competent, good people in the government, and that not enough credit is given to China's major achievement to lift hundreds of millions of people out of poverty over the past three decades.
"No country has done that in history, in 35 years," he said. "Could that have been achieved under any of the other systems? The Chinese leaders will also ask you about the well-being of the people in China. Is there a system, a political system that can do better for the people of China, compared with the current system?"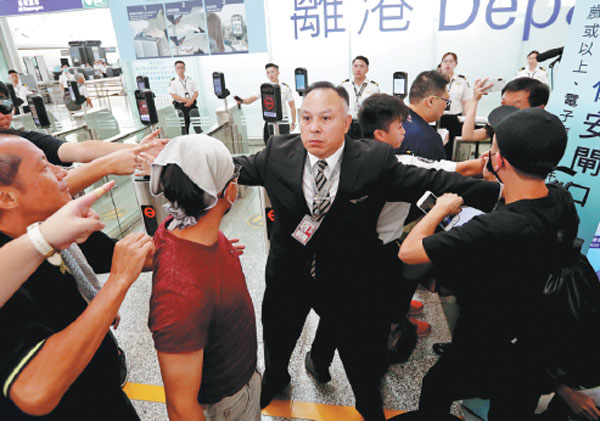 An airport employee tries to stop protesters on Tuesday at Hong Kong International Airport, where all departing flights were canceled during the afternoon due to an unauthorized assembly.Issei Kato/reuters
(China Daily Global 08/14/2019 page1)
Today's Top News
Editor's picks
Most Viewed