World class performers
Universities from both home and abroad come together in Beijing to discuss the future of traditional Asian arts, Cheng Yuezhu reports.
To boost the communication and exchange among Asian traditional art forms, universities from both home and abroad joined hands to put on a feast for the senses, while experts engaged in dialogues about the future of Asian arts.
On the stage of the National Academy of Chinese Theatre Arts on July 2, groups of artists - primarily from China and South Korea - presented a range of performances, from Asian classical music, opera to dance.
The gala served as a part of a forum co-hosted by Beijing Normal University and the National Academy of Chinese Theatre Arts, themed "Asian arts toward the future", that took place from July 1 to 5.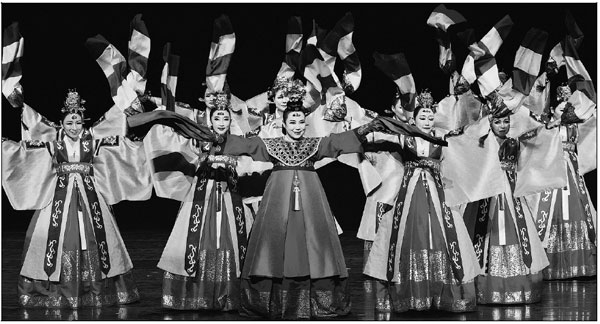 Students of Chinju National University of Education perform Chunaengjeon, a traditional South Korean dance. Photos Provided to China Daily
More than 170 experts and artists from over 10 countries and regions, including China, South Korea, the United States and France, came to Beijing to discuss arts-related disciplines, from music and dance to physical education and new media.
The academy opened the gala with a classic Peking Opera piece, Great Sage Equal to Heaven, centered around the fictional character, the Monkey King.
The excerpt depicted the fight scene between the Monkey King and the heavenly army, in which performers, particularly the actor playing the Monkey King, Sun Jingpeng, exhibited awe-inspiring technique and dexterity.
"This performance is different from our previous ones. It was more comprehensive, with several universities performing various art forms on the same stage, in particular, the Korean arts, which allowed us to learn about their traditional culture," Sun says.
Three universities from South Korea participated in the show, including the Korea National Sport University, Kookmin University and the Chinju National University of Education, presenting three traditional dance types that used to serve varied purposes.
Kookmin University brought a Gyobang dance based on the early-20th-century poet Kim So-wol's work, Sanyuhwa (Flowers in the Mountains), that illustrates the cycle of seasons with female dancers wearing the traditional hanbok national dress, forming the imagery of flowers.
An instructor from the university, Lee Mi-young, says that the dance reflects a respect for tradition.
"Our dance has been adapted from traditional Korean dance forms, so we are enhancing its aesthetic sense while remaining loyal to the Korean tradition," says Lee.
"I feel this practice corresponds with the globalized era that is changing rapidly. In the same manner, this forum also manages to connect the world through discussions about the traditional arts."

Students from the National Academy of Chinese Theatre Arts perform as the Monkey King and as a young woman in Spring Boudoir Dream.
Guo Lanlan, director of the music department at Beijing Normal University, says that the international exchange has been an important part of their work to promote traditional art.
Guo says that they have led their students on field trips and hosted events such as the university's yearly international music week.
"These events have proved beneficial for our students, enriching their knowledge and cultivating their respect for foreign cultures," Guo says.
"This forum has reinforced our commitment to providing more exchange opportunities for our students."
The only performance at the gala by nonprofessionals was staged by the guzheng (a traditional Chinese stringed instrument like zither) ensemble of the Beijing Language and Culture University, comprising five international students from Vietnam, Cambodia and Mongolia.
Wearing their respective national traditional costume, these students who are at various stages of their studies, brought their own execution of the classic Chinese song, Jasmine Flower.
Both the musical instrument and the song are representatives of Chinese music, says Sun Run, an instructor from the university.
"In this performance, people of different cultural backgrounds converse and exchange via Chinese traditional music, which I believe is in line with our theme today and reflects the integration of Asian arts," Sun says.
"The dialogue between cultures allows us to better understand one another, and hence appreciate each other's culture and art."
According to Zhang Yao, a professor from the National Academy of Chinese Theatre Arts, the academy has been offering international students courses in traditional Chinese art forms.
"Among our university's international students, the largest percentage comes from South Korea, many of whom study Peking Opera and Kunqu Opera," Zhang says.
"A lot of these former students are now teachers, dancers and researchers back in South Korea, contributing to cultural exchanges between our countries."
The forum also marks the deepening cooperation between the National Academy of Chinese Theatre Arts and the School of Arts and Communication of Beijing Normal University, which aims to promote Chinese opera on an international stage.
Contact the writer at chengyuezhu@chinadaily.com.cn
(China Daily Global 07/17/2019 page16)
Today's Top News
Editor's picks
Most Viewed