Aussie college launches leadership bursaries
SYDNEY - Western Australia's Curtin University has launched the Meng Fei Innovative Future Leadership Scholarship program in honor of the host of one of the world's biggest television shows, If You Are the One.
The Chinese star said at the announcement ceremony in Nanjing recently that he is delighted to work with Curtin on the initiative that will enable many students to receive a world-class education from the highly ranked university.
"I hope the scholarship can help students in Australia and China to achieve their dreams, and that more Chinese students can learn about Curtin University," says Meng.
Curtin University is located in Perth, the capital of Western Australia, and is a sister city of Nanjing.
According to Seth Kunin, deputy vice-chancellor of Curtin University, the new scholarship program will see this Sino-Aussie partnership strengthen even further.
"The scholarship is an excellent initiative to attract high achieving students to be future leaders and innovators," says Kunin.
Curtin's high world ranking and reputation in leadership and innovation makes this a unique opportunity to partner with the host, he adds.
"Meng Fei achieved international stardom through his work in media and journalism as well as in the entertainment industry," says Kunin.
This scholarship is "seeking students who have achieved exceptional academic results", and have been deemed by Meng as having demonstrated "truly innovative leadership qualities", according to Kunin.
Xinhua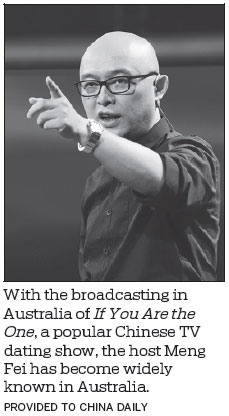 (China Daily Global 07/17/2019 page16)
Today's Top News
Editor's picks
Most Viewed