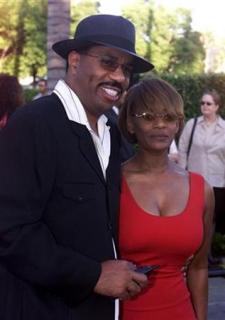 LOS ANGELES  - Mary Harvey wants the world to know why her marriage to Steve Harvey failed.
In three separate videos -- totaling 25 minutes -- posted on YouTube over the weekend, Mary, who split from Steve in 2005, rants, "He turned my son against me, had me evicted from our house. I woke up, and everything was gone."
She then accuses him of infidelity from their meeting in the mid-1990s until the time they split.
Mary says she's speaking up because her ex is currently suing her in Texas, and she keeps coming up in interviews, including in Essence magazine's January 11 cover story.
"In Steve's opinion, I was responsible when Oprah did not give him a TV show," she says. "I'm being sued for that. That is why I'm saying what I have to say…. To keep seeing my name referenced when talking about his life - that part of it, I don't understand."
Steve married Marjorie Bridge -- whom Mary claims was his mistress -- in 2007, and went on to write several relationship advice books.
In response, a statement from Steve Harvey's attorney, Bobbie Edmonds, states: "We are appalled and aware of the videos and other fabricated documents ... which contained false, misleading, derogatory, disparaging, malicious, explicit and slanderous information about Mr. Harvey, his current wife and others."
"The ex-wife is fully aware of the court's current orders and permanent injunctions which prohibit either party, their lawyers or representatives from discussing and releasing information on the Internet and to the media. We are taking the necessary legal steps to rectify this matter to the full extent of the law and we will be seeking contempt and sanctions against her for such reprehensible and callous disregard for the court orders."
"We are saddened that the ex-wife has resorted to such devious and selfish behavior, with a reckless disregard for their minor son, her adult son and Mr. Harvey's other children."