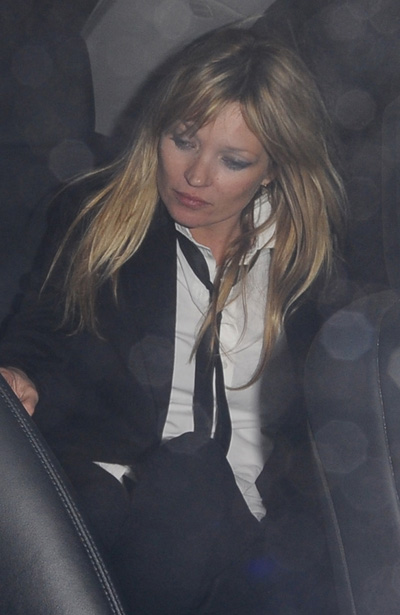 Kate Moss celebrated her birthday in Paris - and got so drunk she walked into a glass door.
The British supermodel - who turned 37 yesterday (16.01.11) - spent 48 hours in the French capital with a group of pals, including boyfriend Jamie Hince.
The couple kicked off the trip - after checking into the exclusive Ritz hotel's £9,000-a-night penthouse suite - with a champagne lunch at Lipp Brasserie with celebrity hairdresser James Brown and artist Jake Chapman.
According to the Daily Mirror newspaper, when the group - who were travelling in a black Rolls-Royce, which had been hired for the weekend - returned to the hotel, Kate was unable to work the revolving doors and hit her head on a glass panel before stumbling back to her suite to prepare for a party with 30 friends.
Having hired out the hotel's private Cesar dining room, guests were treated to a hot and cold buffet along with 51 bottles of expensive Sancerre wine as Kate - who has an eight-year-old daughter Lila Grace from a previous relationship - opened a pile of presents.
The party then continued at Paris nightspot Le Montana where Kate was the first on the dancefloor, before the group returned to her penthouse where the supermodel used her iPod to play DJ - and singing along to classics including The Beatles' 'Hey Jude' - until 6am.
After a quick nap and breakfast four hours later she returned to her terrace for a glass of champagne with her friends as they sang 'Happy Birthday'.
She then rounded off celebrations with a final lunch and a birthday cake.
Last year, Kate opted for a more "civilised" medieval-themed banquet party with most of her friends leaving at 11pm.
An insider said: "Some guests left straight after dinner. It was almost too civilised."