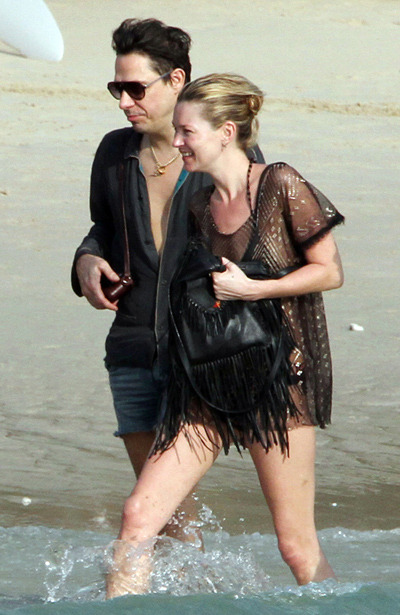 Kate Moss has found a holiday destination for New Year's Eve (31.12.10) - the same place she has spent it the past three years.
The British supermodel was keen to fly somewhere exciting and new to welcome in 2011, but has left it too late and will instead be returning to Phuket, Thailand for the fourth time to celebrate with her boyfriend Jamie Hince.
A source said: "Kate has been forced to book the same place in Thailand where she's spent New Year's Eve for the past three years.
"She's in a huff because she was desperate for somewhere new, but was turned down by top resorts around the globe because they had no room left. She will now be flying to Amanpuri in Phuket on December 27."
The source added: "Kate's been moaning that she's not happy going back to the same resort, but to make it more exciting she'll do it in style and raise the roof spending £100,000 on her seven-day stay,including a yacht."
"She's rented a state-of-the-art yacht to cruise around the Andaman Sea and a luxurious villa full of stuff."
Among the other guests attending with Kate will be her eight-year-old daughter Lila Grace and her mother Linda.
The source told the Daily Star newspaper: "Her party includes Jamie, daughter Lila, Sadie Frost's mother and Kate's mum Linda."
Earlier this month Kate was said to be "stressing" about the important date because she realised it was her fault it has been too late to find somewhere new to holiday.
An insider said: "Kate is really stressing about it because she knows it's all her fault."
"She has had her PA calling around the world to get somewhere warm, glamorous and new but everywhere is already booked up."