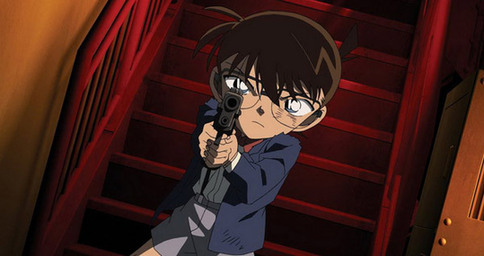 Stills from "Detective Conan: The Raven Chaser"
Sherlock Holmes won't be the only sleuth this New Year film season. Conan, the popular Japanese cartoon detective, will make his debut on the Chinese mainland silver screen on January 18.
"The Raven Chaser" is the 13th movie installment of cartoonist Gosho Aoyama's long-running manga and television series "Detective Conan", whose name was inspired by Sir Arthur Conan Doyle, the creator of Sherlock Holmes.
Yet unlike the film "Sherlock Holmes", which is slated to open in China on February 25, the Conan movie might find it easier to hit home with Chinese movie-goers.
The anime series is about a brilliant teenage detective whose body shrinks to a seven-year-old after being forced to take a poisonous pill which was meant to kill him. Conan enjoys a large number of loyal fans in China, who have been closely following the stories via the Internet.
Conan appeared in comic books in 1994, and since then has been featured in 550 or more TV episodes and 13 films, each with spellbinding stories.
In the latest movie installment, Conan investigates serial homicides in Tokyo, and finds himself confronted with Gin, the man who poisoned him. Conan risks his life in the investigation while trying to protect his pals from the dangerous Gin.
The film opened in Japan last April, and is the most bankable Conan film so far.
"Detective Conan: The Raven Chaser" Director: Yasuichiro Yamamoto Voice Cast: Minami Takayama, Wakana Yamazaki, Akira Kamiya, Megumi Hayashibara Genre: Anime/Adventure/Suspense Release Date (Chinese mainland): January 18, 2010