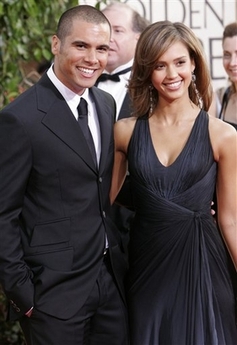 Jessica Alba & Cash Warren
Jessica Alba and her boyfriend, producer Cash Warren, are expecting a baby.
"I can confirm that Jessica and Cash are expecting a baby in late spring/early summer," Alba's publicist, Brad Cafarelli, said last week in an e-mail to The Associated Press.
The couple met on the set of "The Fantastic Four." Alba co-starred in the 2005 film and Warren was a director's assistant, according to People magazine, which first reported Alba's pregnancy on its Web site.
Alba, 26, stars in the new thriller "Awake," and recently appeared in "Good Luck Chuck" and "The Ten." The sex symbol first gained fame as an action star on TV's "Dark Angel," then in films including "Fantastic Four" and "Sin City."