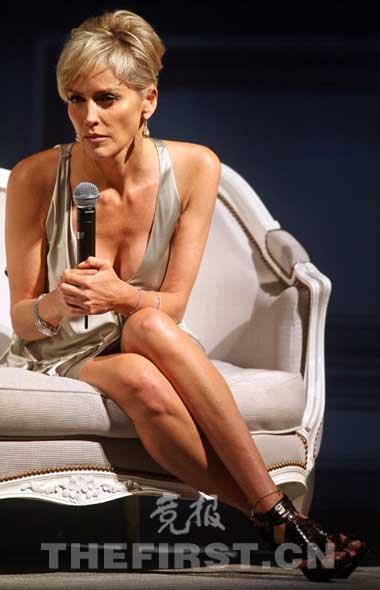 Sharon Stone attends the press conference at Shanghai Grand Theater on Thursday. [thefirst.cn]
Sharon Stone is a lot more than just an ambassador for Dior, she's also a champion of the poor, speaks a lot of sense and at 49-years-old the mother of three is still drop-dead-gorgeous writes Michelle Zhang.
DIOR spokeswoman Sharon Stone is obviously not up to the job. The "Basic Instinct" sexpot is in town to attend the ongoing Shanghai Film Festival and help Dior to promote "Capture Totale," the latest anti-aging skincare product launched by the French cosmetics house.
However, during Thursday's press conference at Shanghai Grand Theater, the 49-year-old surprised all when she was asked to provide advice on combating aging.
"How can people be so selfish and obsessed with that 'I'm getting older'?" she asks, emotionally. "Buy yourself some face cream, go somewhere and do something nice for someone else. There are hundreds of millions people who are dying because no one cares about them. They would be so happy and grateful to be able to age."
"There is one child dying every minute of Aids. One out of every eight women will get breast cancer. There are people all over the world who are suffering from diseases while you are spending your life worrying about a wrinkle. It's ridiculous!"
She continues: "You should realize how lucky you are when you have a wrinkle. That means you are alive. That means you have laughed and cried, you have emotions because someone cares about you and you care about someone. When you have time to look in the mirror - that's extra time, use it wisely."
Her words won the seductively radiant beauty floods of applause. Sitting on the couch in an elegant posture, the charming lady is not only emotional but also amiable, not as icy or arrogant as people expected her to be. She is beautiful and Stone perfectly epitomizes the saying that things only get better with age.
"I don't think when I was a young girl that I felt I was beautiful or I was confident with myself," she says. "It was at a certain point I started to accept myself and feel comfortable with myself. You have to realize that today is the best time you will ever going to have again.
"Nobody is perfect. I am a big pile of flaws, which makes me fantastic," she says, laughing. "Sometimes it is the flaw that makes us love another person. At this point of my life, I come to realize that I'm really happy with my great parts. What's the point in not liking yourself? You are not going to get another you."
The intelligent woman believes in moderation. Her suggestion for how to live a healthy life is to do things that makes you feel "generally good": "It's important to eat healthily but I eat candy bars as well. I drink wine, but not a bottle. I don't take hard liquor because I don't feel good with it. I do exercise to the amount that makes me feel good."
Stone adopted her first son Roan in 2000 and now she is a mother of three. She affectionately calls them the three "little Geminis." A glorious star like her, she describes her single working mother life as "truly exhausting."
"I have all the same worries and concerns about my life and my children as you do," she explains. "How am I going to send them to college? Do the antibiotics I gave to my sons have any side effects?"
And it's never too late to find a husband or a boyfriend, "even if you were 70," according to her. After two failed marriage, the attractive lady says that the best qualities she finds in a man are kindness and thoughtfulness.
"When we were young, we might want men to be exciting but as we grow up, we recognize the importance of being kind and consistent," she explains. "To me, it is sweet when a guy shows up with orange juice in the morning, when he is willing to help me with the house works and ask me to take a bath."
Often described as a "symbol of sex," Stone goes on to tell about her understanding of sex.
"Sex is a complicated issue," she says after a short period of thinking. "First of all, it is communication. It is a way for us to communicate with each other, and it should be a communication of kindness, tenderness and care.
"It is not just an image thing. It is a possibility for greater understanding of what the relationship means to one another."
It is the blonde's first visit to China and she is utterly excited about what she has seen and experienced in Shanghai. Everything here is new to her.
She believes that there is no doubt that celebrity involvement in philanthropy can have many positive effects. She hosted an auction in Cannes during the recent Cannes Film Festival and helped to raise US$7 millions for the American Foundation for Aids Research.
She then joined 40,000 partygoers at Vienna's Life Ball to raise money for a program called "Treat Asia."
"We have raised there about US$1 million and all the funds will be sent to Asia for Aids research," she explains. "I'm very proud to have done that. We have noticed that there is a growing Aids community in Asia nowadays and it's very important for people to be illuminated about the crisis.
"It's also enormously important that we come together and be proactive and intelligent," she continues. " For some reasons, I believe Asia will be the area with great science, technology and intelligence to make a breakthrough.
"I have been traveling all over the world. Only Egypt and China have such long histories but China has the super advancement as well. There is something that touches me intellectually and emotionally. I feel compelled to imagine that something great could happen here."