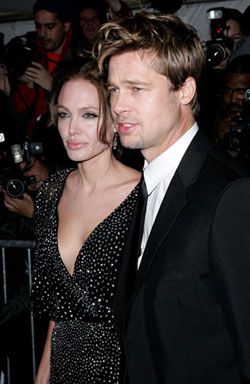 Angelina Jolie & Brad Pitt
Angelina Jolie has gone public about the start of her relationship with actor Brad Pitt, saying she never wanted to ruin his marriage to actress Jennifer Aniston -- but she also has no plans to marry him.
Jolie, 31, said the two stars realized while working together on the film "Mr. & Mrs. Smith" in 2003 and 2004 that they shared a "deep, emotional bond," although Aniston was clearly Pitt's best friend.
"I think we were both the last two people who were looking for a relationship," she told Vogue in an interview in the magazine's January issue.
"Because of the film we ended up being brought together to do all these crazy things and I think we found this strange friendship and partnership that kind of just suddenly happened."
Jolie said she remained "very, very good friends" with Pitt after shooting the movie without commenting further on the nature of their relationship.
Pitt, 42, and Aniston, 37, broke up in early 2005.
"And then life developed in a way where we could be together, and where it felt like something we would do, we should do," she said.
Jolie said she does not plan to marry Pitt, but they are committed to raising their three children.
Jolie adopted her son Maddox from Cambodia in 2002 during her marriage to actor Billy Bob Thornton and a daughter, Zahara, from Ethiopia, in 2005.
| | | |
| --- | --- | --- |
| 1 | 2 | |