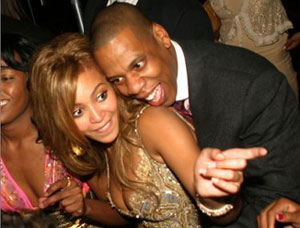 Beyonce and Jay-Z
Rumors are that Beyonce Knowles and her lover rapper Jay-Z will get married over the weekend at a lavish Caribbean resort, as "part" of his 37th birthday party. The five-star resort is on the island of Anguilla.
Reportedly, have been together for almost four years. Beyonce has stated that she believes that not publicly discussing their relationship has helped them. Jay-Z has said in a People Magazine article that "We don't play with our relationship."

"Beyonce is throwing Jay a four-day birthday party, but it's really a wedding," a source said. The place is St Bart's to Cap Juluca, a five-star resort with Moorish villas. Apparently the New York Post first broke the news. The four-day party will begin on a luxury yacht before guests are ferried across to Anguilla for the wedding ceremony, which will take place at the five-star resort of Cap Juluca.
"Insiders" say friends and family invited to the celebrations were told to have passport applications filed by last Friday, Dec 1st, so they could witness the pair exchanging vows.
Earlier in the week the couple were rumoured to be breaking up after music fans spotted these lyrics in a new Jay-Z track called, 'Lost One': "I don't think it's meant to be, B/ For she loves the work more than she does me/ And, honestly, at 23, I would probably love my work more than I did she/ "So we ain't we, it's me and her."
Beyonce rose to stardom as the lead singer of Destiny's Child, the world's best-selling female group. After a series of commercially-successful singles with the group, she released her debut solo album, Dangerously in Love, in 2003, which topped both the Billboard 200 and the R&B charts in the U.S. and the main albums chart in Canada and the United Kingdom. Beyonc¨¦ has won nine Grammy Awards throughout her career - six as a solo artist, and three as a member of Destiny's Child.
Beyonce's sophomore album, B'Day, was released to enormous worldwide success on September 4, 2006 to coincide with the celebration of her twenty-fifth birthday. In its first week the album sold over 541,000 copies in North America, making it her highest-selling first week as a solo artist. The album includes hit songs "Deja Vu", "Ring the Alarm", and "Irreplaceable".
She recently collaborated with her beau, Jay-Z on his new album, Kingdom Come, providing the vocals and the hook for the track entitled: "Hollywood". She is also rumored to be working with Remy Ma, for her upcoming album, and the track is set to be titled 'Queen'. During the autumn of 2002, Beyonc¨¦ was the featured vocalist on rapper Jay-Z's hit single, "'03 Bonnie & Clyde".
At the 2006 Grammy Awards, Beyonc¨¦ won a Grammy in the category of "Best R&B Performance by a Duo or Group with Vocals" for the song "So Amazing", a duet with Stevie Wonder from the Luther Vandross tribute album So Amazing: An All-Star Tribute to Luther Vandross.
With Austin Powers in Goldmember and The Pink Panther, Knowles appeared in two films that opened at number one at the box office; the two films have grossed over $481,364,728 worldwide. Beyonc¨¦ has completed filming the movie Dreamgirls, the film adaptation of the hit 1981 Broadway musical about a 1960s singing group loosely based on Motown all-female group The Supremes, as the Diana Ross-based character Deena Jones. The film is scheduled for release on December 15, 2006.
Jay-Z has been one of the most successful American rappers of the past decade. In 2006, an MTV list named him the "Greatest MC Of All Time". He earned five Grammys to date.