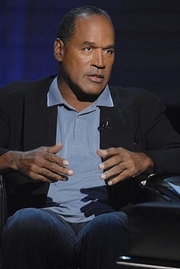 This undated promotional photo, released by Fox Television, shows O.J. Simpson during an exclusive interview with publisher Judith Regan (not pictured) about how the murders of Nicole Brown Simpson and Ron Goldman would have taken place had he actually committed the crimes. News. Corp. said Monday, Nov. 20, 2006, that it has canceled the companion O.J. Simpson book and television special 'If I Did It.' (AP Photo/Fox, Michael Yarish)
LOS ANGELES - O.J. Simpson said Wednesday that he knew any profit from his "If I Did It" book would be "blood money," but that he took part in the project to pay his bills.

"It's all blood money and unfortunately I had to join the jackals," Simpson told The Associated Press, referring to authors of books about him. "It helped me get out of debt and secure my homestead."
Simpson also said in telephone interviews this week that he saw the book as a way to provide for his children financially.
The book, said to describe how he hypothetically would have killed ex-wife Nicole Brown Simpson and her friend Ronald Goldman, had been scheduled for release Nov. 30 following the airing of a two-part Simpson interview on Fox on Monday and Wednesday. News Corp., owner of Fox Broadcasting and publisher HarperCollins, canceled the project this week after it was condemned as revolting and exploitive.
In the AP interview, he denied committing the murders, disputed his own publisher's contention that the book amounts to a confession, insisted the title was not his idea, and said the hypothetical sections were written by his ghostwriter.
News Corp. spokesman Andrew Butcher said the company paid $880,000 to a third party in connection with the project. Of that amount, $100,000 was to go to the book's ghostwriter and the rest to Simpson's children, Butcher said.
"Absolutely no money was ever given to O.J. Simpson by us," he said Wednesday.
Simpson would not say how much he was paid in advance, but said it was less than the $3.5 million that has been reported. He said the money already has been spent, some of it on tax obligations.
Butcher said News Corp. has no grounds to try to recoup any of the money because Simpson honored his end of the contract by producing the book.
Acquitted of murder in 1995, Simpson was later found liable in a wrongful-death lawsuit filed by Goldman's family. The former football star has not paid the $33.5 million civil judgment, and his NFL pension and Florida home cannot be seized.
He made no apologies for the book and TV deal: "I've been pimped for 12 years. Everyone's made money on me."
In interviews with the AP, Simpson was bitter toward the Goldmans, who consider him a murderer and continue to try to collect the judgment. "They have become professional victims. America, you're being duped by these people," Simpson said.
Goldman attorney Jonathan G. Polak said the family will work to "place Simpson in a `virtual' jail cell, from which he will never emerge. If that means pursuing him until his last day on this Earth, then they are prepared to do precisely that."
Simpson said he was convinced the book would have been a best-seller, adding that he desperately needs the cash because his retirement funds are dwindling.
Prepublication sales for "If I Did It," were strong but not sensational. It cracked the top 20 of Amazon.com last weekend, but by Monday, when it was canceled, the book had fallen to No. 51.
With "If I Did It" now a collector's item, interest is much higher. Purported copies of the book have already been offered on eBay, with bids reaching up to $65,000. A seller in Ridgefield Park, N.J., posted pictures of the front and back cover and the inside flap.
Ebay spokesman Hani Durzy said Wednesday that the online auction house has been removing the book from the site because of copyright concerns.
Simpson, 59, said he deserved harsh criticism for his role in the project, but he complained that News Corp. owner Rupert Murdoch got off easy.
"I'm taking heat and I deserve it," Simpson said. "But Murdoch should not be taking the high road either."
Publisher Judith Regan has portrayed the book as "O.J.'s confession," and it contains a chapter in which he explains how he could have committed the killings. But Simpson said he did not write that section.
Simpson said he told the publishing company he would not allow publication if the book contained graphic descriptions of "cutting or stabbing."
He said he wanted it made clear he was not the killer: "I didn't do it. I made it clear I didn't do it. But I didn't doubt that Ms. Regan thought I did it."