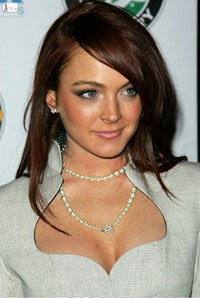 Singer/actress Lindsay Lohan reportedly fears she "will end up like Princess Diana" following a car crash in Los Angeles(07nov06).
The Mean Girls star was chased by a photographer who slammed into the back of her Mercedes after she left celebrity nightspot Hyde at around 2am.
A source says, "She was apparently able to drive a short distance from the crash, but she later pulled over and called a friend to pick her up."
Gossip site TMZ.com reveals she had been spotted looking upset earlier in the evening. It says, "La Lohan appeared a little upset and teary-eyed under a hooded shirt (before) speeding off, alone,"
Lohan's spokesperson, Leslie Sloane Zelnik confirmed the crash, but was unable to comment on whether the incident had been reported to the police, according to New York Daily News.
It is the latest in a series of run-ins with the paparazzi for Lohan - a recent incident in which photographers tried to hit her Cadillac Escalade.