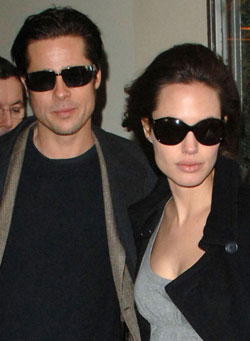 Hollywood stars Brad Pitt and Angelina Jolie are not at the top of Al-Qaeda's most wanted list, but received threats from a little-known Islamic fundamentalist group ploying for attention.
A story published in India's Financial Express' November 2 issue claimed that Pitt, 42, and Jolie are a prime target of Al Qaeda terrorists as they worked on their film A Mighty Heart in India. The film is about American journalist Daniel Pearl, who was kidnapped and later executed by the same terrorist group in Pakistan in 2002.
Angelina Jolie is playing Pearls' widow Mariane Pearl.
But sources close to the couple confirmed to American publication Us Weekly that the actors are safe, claiming that a small Islamic fundamentalist website put out a threat for gaining publicity.
"The FBI was told it was not credible, which they told Brad and Angelina," Contactmusic quoted her, as saying.
Pitt initially added private security to his team until he was assured by authorities that his family was safe, as the source added, "It was a big deal until they found out it was bogus."(ANI)