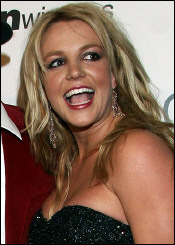 The subject jostled for position with news of the congressional election results, with talk radio, daytime television shows, newspapers and websites devoting generous coverage to the split.

News of Spears' decision to divorce Federline after two years of marriage, and only two months after the birth of their second child, emerged on Tuesday sparking a media fire-storm.

So far neither Spears nor Federline have broken their silence on the subject but gossip columnists, pundits and friends of the couple were only too willing to jump into the vacuum.

Many applauded Spears' decision.

"It's the day after and I just want to say I'm over the moon excited," daytime talkshow host Rosie O'Donnell said. "It's the biggest news of the country -- Britney Spears is leaving K-Fed!"

After confetti had showered down on guests, O'Donnell added: "Let me just say on behalf of a happy America -- 'Welcome back Britney, we love you.'"

Spears' marriage has been a favourite target for celebrity media in the US, with the 28-year-old former dancer Federline invariably being portrayed as a talentless gold-digger.

Late-night talk show host Jay Leno meanwhile couldn't resist a swipe at Federline's aspirations to pursue a hip-hop career. "Maybe (Britney) finally heard his rap album," Leno said.

Internet websites meanwhile buckled under the weight of hits generated by news of Spears' marital strife.

| | | |
| --- | --- | --- |
| 1 | 2 | |