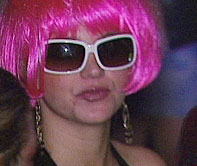 Britney Spears attended her husband's album launch party in disguise--because she didn't want to steal his limelight.
The 'Toxic' singer sported a far from inconspicuous pink wig and oversized sunglasses to help spouse Kevin Federline celebrate the release of his debut LP, 'Playing With Fire', in Hollywood on Tuesday (10.31.06).
Earlier in the evening, Kevin had performed his new single 'Privilege' at the West Hollywood Halloween Carnival but was met with a chorus of jeers and boos.
Speaking about reports of poor ticket sales for his upcoming promotional tour, which has resulted in a number of cancelled shows, Kevin insisted he would prove his critics wrong.
He said: "I don't care if it's a room full of five or nine people. I don't care if there's one person. I'll still perform.
"I'm a rookie artist, you can't expect because of my name to sell out a show. People don't know me as Kevin Federline the artist, they know me as Kevin Federline the dude that's married to Britney Spears.
"Eventually that will change. Once I start building up a fan base, by doing events like this and showing people I can get them turned on."
The fledging rapper also admitted he would have to sacrifice time with his family - wife Britney and their children, Sean Preston and Jayden James - to make his career a success.
He said: "It's going to be tough because I'm not going to see my family as much as I want to, but those are the sacrifices you makes as an artist."