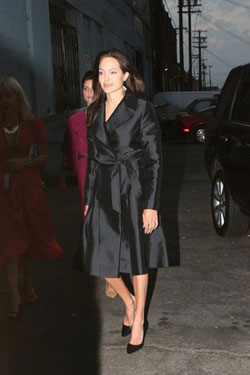 Brad Pitt and Angelina Jolie at an art show for the renowned British Graffiti artist Banksy.
Staying in India for the past few weeks seems to have triggered Hollywood stunner Angelina Jolie's desire to adopt another orphan--this time an Indian child.
The celebrity couple, who is currently in India for the filming of Jolie's latest movie A Mighty Heart, has reportedly already applied to adopt a tot from an Indian orphanage.
"They hope to be able to bring the child home by Christmas," the Daily Mail quoted a source, as saying.
"Brad would prefer a boy no older than 18 months to even out the sexes, but Angie has told him she can't guarantee she won't fall in love with a little girl," the source added.
Talking about the celebrity couple's latest adoption plans, a source told US magazine Globe: "Whichever they end up with, they'd like to name the child India to honor its homeland."
Between them, Jolie and Pitt already have three children to look after - five-year-old Maddox, who was adopted from a Cambodian orphanage in 2002, Zahara Marley Jolie, an Ethiopian baby girl who adopted last year, and their biological daughter Shiloh Nouvel Jolie-Pitt, who was born in May 2006.
The Tomb Raider star had said in the past that she would want to have one big multi-cultural family, with kids from all across the world.
"I want to create a rainbow family. That's children of different religions and cultures from different countries."
"I believe I'm meant to find my children in the world and not necessarily have them genetically," said Jolie.
However it is being said that the couple is in disagreement over whether they should adopt again, with Pitt wanting to concentrate on the children they have.
The duo has been virtually inseparable since the actor split from 'Friends' star Jennifer Aniston in January last year.