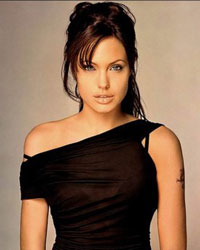 Hollywood beauty Angelina Jolie, who is shooting for her latest flick in Pune, reportedly fainted on the sets.
Life & Style Weekly will print in this week's edition that Pitts had a bit of a scare when Angelina collapsed on the set in India while filming A Mighty Heart.
'Angelina Jolie was in the middle of filming her latest movie, A Mighty Heart, in Pune, India, when something went wrong. The scene she was shooting on Oct. 10 was an emotional one: In it, her character, Mariane Pearl, learns that her husband, Wall Street Journal reporter Daniel Pearl, has been killed by terrorists in Pakistan," a source was quoted by the Post Chronicle
"Angie literally collapsed while she was filming it," he added.
Brad Pitt rushed to her side and called for a break so she could recover, the insider says.
Angie, who was soon able to resume shooting, quickly chalked up the collapse to the intensity of the scene.
"Angelina really threw herself into it and was overcome with emotion," says the insider.'
However the magazine reports that it has learnt from a Pitt family source that it was actually the third time Angelina had fainted in three days. The friend claims that the first occurrence was on Oct. 8, after Brad and Angelina's highly-publicized rickshaw ride with son Maddox, 5.
'The report details that after returning to their hotel suite at Le Méridien, "Brad said he was talking to Angelina, and the next thing he knew, she'd collapsed onto the floor," says the family friend.
"She just fainted. He sat her up and got her some water, and she seemed fine, but Brad says it frightened the life out him."
The insider claims that Angie reassured Brad that she was just reacting to the heat and the crowds during the ride, says the friend, who adds, "But Brad said Angelina fainted the next day while just getting out of bed! She was out for only seconds - but she was out cold." (ANI)