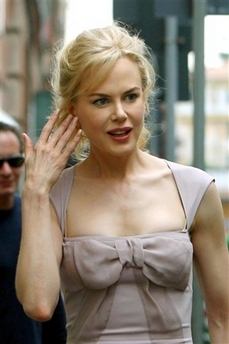 Actress Nicole Kidman gestures as she walks in central Rome, Saturday Sept. 9, 2006.(AP)
Anyone out there hoping for a Nicole Kidman- Angelina Jolie smackdown probably shouldn't hold their breath.
A Scottish newspaper has publicly apologized for attributing negative remarks about Jolie's charity work to Kidman in a Sept. 8 article.
The report in question suggested that Kidman was judging Jolie for using her philanthropic toils as a means of getting attention.
"It's not like Angelina is any better than a nurse working in a hospital, but she's getting the publicity for her contribution," Scotland's Daily Record quoted Kidman as saying.
"I have a friend who is a doctor and every year he works in Africa for two months for no money. So everyone is on the same playing field, whether you offer your services as the doctor or as Angelina does."
The purported remarks were subsequently disseminated via online gossip sites.
However, according to Kidman's publicist, Catherine Olim, the actress never said any such thing.
"The Daily Record, which attempted to suggest a rift between Ms. Kidman and Ms. Jolie, as well as malice on Ms. Kidman's part, has confirmed that it attributed remarks that she did not make to them," Olim said in a statement.
"Ms. Kidman has tremendous admiration for Angelina Jolie and her tireless, worldwide charitable work, as well as for the work of countless less well known volunteers in areas of need around the world."
The Daily Record acknowledged that Kidman never made the remarks and apologized for "any upset caused."
Both Kidman and Jolie serve as goodwill ambassadors to the United Nations. Kidman represents UNIFEM, the United Nations Development Fund for Women, while Jolie represents UNHCR, the United Nations High Commissioner for Refugees.