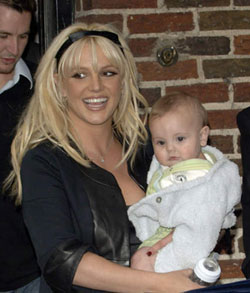 Britney Spears with son Sean Preston are seen her on 05/09/2006 in front of the NY apartment that she has recently sold.
Now that she's given birth to her second son, Britney Spears has moved on to another important step in the baby's life--giving him a name.
The 'Baby One More Time'singer has reportedly chosen the name 'Sutton Pierce Federline' for the new tot, because she wants him to have the same initials as his elder brother Sean Preston Federline, reports The Sun.
And their initials are not the only things the two brothers will have in common, for along with their sun-sign, the two are also born in the same month--September.
Another thing that the two tiny tots will have in common is that they were both born at the same hospital, and by caesarean section.
Just two days after the birth of the new baby on Sept 12, Britney and K-Fed celebrated the Sean Preston's first birthday on Sept. 14.
The couple are expected to announce the name, and release pictures, in the next couple of days.