Britney baby birth rumors swirl
(Reuters)
Updated: 2006-09-13 08:55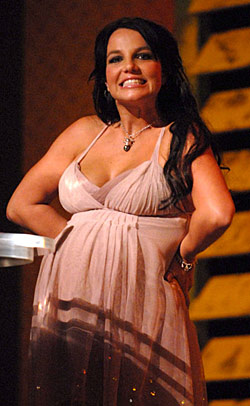 Britney dies her hair black when she's pregnant with the second baby
LOS ANGELES (Reuters) - Rumors swirled on Tuesday that pop star Britney Spears had given birth to her second baby, and that contrary to tabloid predictions, it was a boy.
Spears, 24, was reported by several tabloid outlets to have had the baby at a Los Angeles-area hospital early on Tuesday morning. But details were scarce, and Spears and her representatives were keeping mum.
The syndicated TV show "Access Hollywood" reported on its Web site that it had confirmed the birth with the performer's father, Jamie Spears, who said he had already seen his grandchild, adding, "Everything is great."
Us Weekly, citing an unnamed family source, said the child was a boy. Life&Style magazine said Spears' husband, Kevin Federline, sent a text message to a family insider saying: "Break out the cigars! We got a baby boy in the house!"
But Spears' publicists declined to comment on the media accounts.

| | | |
| --- | --- | --- |
| 1 | 2 | |