'Mr.Britney Spears'says marriage to a superstar is hard
(AFP)
Updated: 2006-09-07 08:56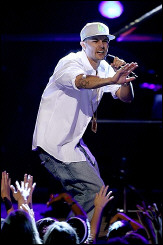 Pop star Britney Spears' husband, Kevin Federline, a budding rapper in his own right, admitted in an interview that it is difficult being compared to his superstar wife.
"I would be lying if I didn't say it was tough," Federline told talkshow host Ellen DeGeneres.
"I think the expectation is real high for me," he said as he promoted his upcoming album "Playing with Fire".
"You know, it's like, you see my wife -- here she is this huge superstar, everybody loves her, all of her music is just hits after hits -- and it's hard to compete," he said on the syndicated "Ellen DeGeneres Show".
However, the aspiring hip-hop impresario said he does not want to compete with Spears professionally.
"I don't see it as a competition, you know," he said. "Maybe other people are putting it in that perspective but to me it's not a competition."
Federline, 28, a former backup dancer, has earned mixed reviews for his music.
Spears, 24, was a pop princess who rose to fame in 1999 with her first single, "Hit Me Baby One More Time." She has since sold more than 60 million albums.
She is currently expecting their second child in weeks. They welcomed a son, Sean Preston Federline in September 2005.