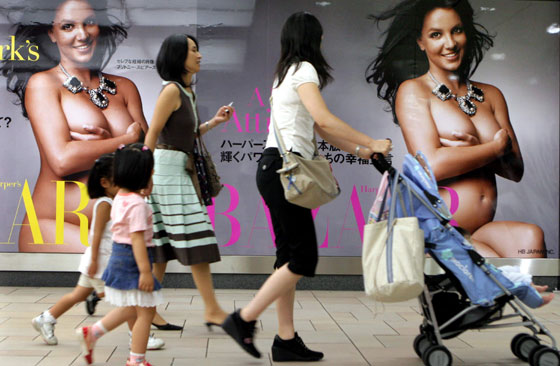 Mothers and their children walk past posters of a pregnant and nude Britney Spears in a subway station in Tokyo August 28, 2006. REUTERS/Toshiyuki Aizawa (TOKYO)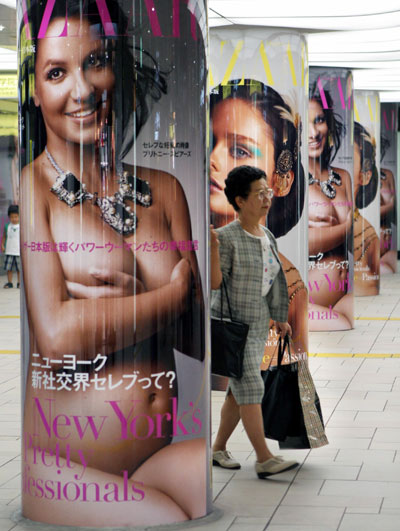 Tokyo's subway allowed a publisher to display posters of a nude and heavily pregnant Britney Spears on Monday, overturning a decision to cover up part of the image for being "too stimulating" for young people.
The picture of the pop singer -- nude but covering her breasts with her arms and crossing her legs at the knee -- appeared in the August issue of Harper's Bazaar in the United States and will be on the cover of the magazine's Japanese edition for October.
Tokyo Metro and the publishers had initially agreed to display a censored version of the cover photo, with the pop star's body covered from the elbow down.
But the Metro reversed the move to mask the picture, saying "the original decision wasn't a good one".
"It's a strong image of a working woman", said Tomoki Ishikawa, a 19-year-old male university student walking through Omotesando subway station in a trendy part of central Tokyo.
"It's old fashioned that the Metro people thought that way", he added.
One passer-by expressed concern for Spears' unborn baby.
"It's becoming an absurd world," said 83-year-old Tsuyako Egashira as she looked at the poster of the former teen idol.
"Why does a pregnant woman have to show her belly? You have to take care of it," she said.
But not everyone in her age group agreed. Takuro Shimizu, 78, travelled in from a Tokyo suburb especially to take photos of the posters. "I think it's good for the low birth rate problem", he said. "It's not so exciting for me since I'm old", he smiled.
Harper's Bazaar commented: "We're happy that our position was accepted".
Japan's low birth rate is at the centre of public concern as the fertility rate fell to an all-time low of 1.25 in 2005, the same year that its ratio of elderly people to the total population became the world's highest.