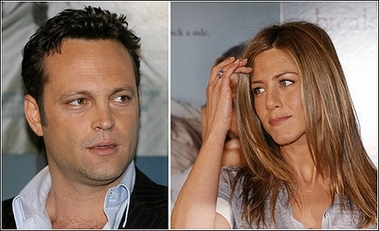 This combo of photos taken in June 2006, shows actors Vince Vaughn (L) and Jennifer Aniston, in Sydney during a promotional tour for their movie "The Break-Up". Aniston will not be hearing wedding bells in the near future : her publicist has denied a report the "Friends" star was engaged to long rumored beau Vaughn.(AFP/File/Greg Wood)

Jennifer Aniston and Vince Vaughn engaged? Don't be ridiculous, Aniston says.
The "Friends" actress told People magazine that reports of her engagement to the "Be Cool" actor, including an article in Us Weekly, are false, calling the stories "insane."
"I'm not engaged, and I don't have a ring, and I haven't been proposed to," Aniston told People, according to an article appearing on the magazine's Web site Wednesday.
Us reported in an Aug. 9 cover story citing anonymous sources that Vaughn had proposed to Aniston on June 27 on a private jet after a trip to Mexico. Us is sticking by its story, which other media outlets picked up.
"Us Weekly based its story on lengthy interviews with four separate and independent sources close to the couple, including two who learned of the engagement directly from Vince Vaughn," the magazine said in a statement Wednesday. "Jennifer's publicist never denied the engagement in advance of publication."
People magazine said Aniston, who has starred in such movies as "Along Came Polly" and "Bruce Almighty," called it to clarify the reports.
Aniston said she normally ignores rumors published about her but wanted to speak this time because the reports had been picked up by mainstream news outlets.
"The only reason I'm saying something is because if we're listening to the news we're supposed to be believing in the news," she said.
Aniston was vague about her relationship with Vaughn, whom she met last year while filming "The Break-Up."
"We're just being," she told People. "We're having a good time."