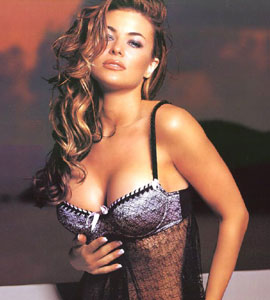 Carmen Electra recently admitted she didn't need to enhance her breasts as much as she did.
"I didn't like them at first," said Carmen Electra who added that she felt she was talked into increasing her breast size.
"I really didn't want to go as big as I ended up going. It was nice that I didn't have to wear a push-up bra anymore, but I could have left myself alone. I didn't need to do it."
Carmen Electra, who is married to Jane's Addiction guitarist Dave Navarro, starred on the bouncy-bosom show Baywatch, as did her colleague Pamela Anderson.
A body Carmen Electra does admire is Jessica Alba's.
"Jessica Alba is naturally pretty, she's very sweet," Electra said. "I fell in love with her because she's the nicest girl she's sexy because she's got an incredible body."