Jenna Jameson sells to Playboy Enterprises

Updated: 2006-07-12 13:50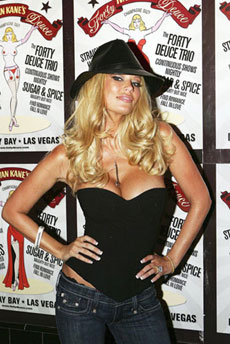 The world's most famous porn star is going to work for Playboy.
Playboy Enterprises Inc. announced Thursday that it has acquired Club Jenna Inc., the Scottsdale multimedia enterprise owned by Paradise Valley resident Jenna Jameson and her husband, Jay Grdina.
This business move is very exciting," Jameson said. "Jay and I are pleased to be part of the Playboy family and look forward to the potential that this brings to the table." According The Arizona Republic."
A Playboy spokeswoman said the affiliation with Jameson would help Playboy reach her large audience.
"It gives Playboy the premier icon in adult entertainment with Jenna," Jay Jay Nesheim said. "Jenna has transcended the adult genre. She's more of a mainstream celebrity, and she has such a huge demographic. There's a lot of value in it."
The deal will help both sides expand their businesses, Playboy Chairman and Chief Executive Officer Christie Hefner said in a statement.
Club Jenna grossed sales $30 million just last year. Collaborating with Playboy was a great move for both parties. Much success in the future, is their predictions.
"With the resources now available to us, we can bring Club Jenna to a level unprecedented in sophisticated entertainment," Grdina said in a statement. (source:The Arizona Republic)