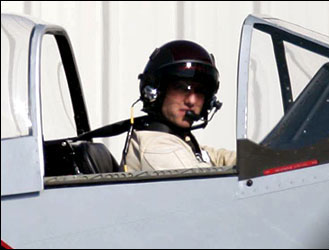 Tom Cruise took to the air in a 63-year-old airplane as his pregnant fiancee, Katie Holmes, contemplated the birth of their child. Cruise took a P51 Mustang out for a spin Saturday, taking off from Bob Hope Airport in Burbank, Calif.
Cruise owns the refurbished 1943 plane and is currently renting a hanger at the airport. To declare his love, Tom decided to inscribe the words "Kiss Me Kate" on the nose of the plane.

Tom had a co-pilot securely in tow during the ride.
The actor has been active to say the least in the last few weeks, jetting to Germany and motorcycling around town. His latest adventure raises the question -- is Tom taking too many chances given the impending birth?