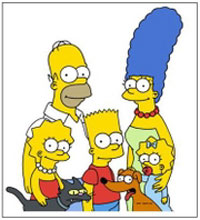 This photo supplied by Fox Television shows, clockwise from top left: Homer, Marge, Maggie, Santa's Little Helper, Bart, Snowball II and Lisa on "The Simpsons"
Americans apparently know more about "The Simpsons" than they do about theFirst Amendment. 
Only one in four Americans can name more than one of the five freedoms guaranteed by the First Amendment (freedom of speech, religion, press, assembly andpetitionforredressof grievances.) But more than half can name at least two members of the cartoon family, according to a survey.
The study by the new McCormick Tribune Freedom Museum found that 22 percent of Americans could name all five Simpson family members, compared with just one in 1,000 people who could name all five First Amendment freedoms.
Joe Madeira, director of exhibitions at the museum, said he was surprised by the results.
"Part of the survey really shows there are misconceptions, and part of our mission is toclear upthese misconceptions," said Madeira, whose museum will be dedicated to helping visitors understand the First Amendment when it opens in April.
The survey found more people could name the three "American Idol" judges than identify three First Amendment rights.
It also showed that people misidentified First Amendment rights. About one in five people thought the right to own a pet was protected, and 38 percent said they believed the right against self-incrimination contained in the Fifth Amendment was a First Amendment right, the survey found.

(Agencies)
在美国,《辛普森一家》的知名度显然要高于美国宪法第一修正案。
根据一项调查显示:就美国宪法第一修正案所授予的五项自由权利,能够说出其中至少两项的美国人只有1/4,这五项权利包括言论自由、宗教信仰自由、出版自由、集会自由和向政府请愿要求申冤的自由。但是,一半以上的美国人却能列出至少两名辛普森家庭卡通成员的名字。
新建的麦考密克论坛自由博物馆是这项研究的负责机构,该研究发现有22%的美国人能够说出辛普森一家五口人的名字,而在一千个美国人中,只有一个人能把第一修正案里的五项自由权全部说出来。
博物馆的展馆主任杰伊·马德拉说,调查结果让他大为吃惊。
马德拉说:"部分调查结果确实显示人们有些误解,我们的任务之一就是要消除这些误解。"到四月份开馆时,博物馆将致力于帮助参观者了解第一修正案。
调查还发现,更多人能说出"美国偶像"电视节目三个评委的名字,而说不出第一修正案中的三项权利。
调查同时显示,人们对第一修正案中的权利有错误的认识,有1/5的美国人认为养宠物的权利受到保护,38%的人认为第五修正案中反对"自证其罪"的权利应是第一修正案中的内容。

(中国日报网站编译)